tridemorph
Fungicide
FRAC 5, G2; morpholine: morpholine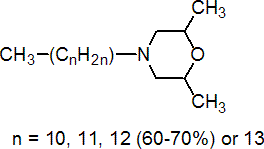 NOMENCLATURE
Common name tridemorph (BSI, E-ISO); tridémorphe ((m) F-ISO) for a reaction mixture (see below)
IUPAC name 4-alkyl-2,6-dimethylmorpholine; for original definition, 2,6-dimethyl-4-tridecylmorpholine
Chemical Abstracts name for original structure/main component, 2,6-dimethyl-4-tridecylmorpholine
CAS RN [81412-43-3] new definition; [24602-86-6] 4-tridecyl- component EEC no. 246-347-3 (for 4-tridecyl- component) Development codes BASF 220 F
PHYSICAL CHEMISTRY
Composition Originally thought to consist only of tridecyl (C13) isomers, the reaction mixture has now been shown to comprise C11 to C14 homologues containing 60-70% of 4-tridecyl isomers, 0.2% C9 and C15 homologues and 5% of 2,5-dimethyl isomers. Mol. wt. 297.5 (approx.) M.f. C19H39NO (approx.) Form Yellow, oily liquid, with a slight amine-like odour. B.p. 134 ºC/0.4 mmHg (tech.) V.p. 12 mPa (20 °C) KOW logP = 4.20 (pH 7, 22 °C) Henry 3.2 Pa m3 mol-1 (calc.) S.g./density 0.86 (tech.) (20 °C) Solubility In water 1.1 mg/l (pH 7, 20 ºC). Miscible with ethanol, acetone, ethyl acetate, cyclohexane, diethyl ether, benzene, chloroform, olive oil. Stability Stable £50 ºC. On u.v. irradiation of an aqueous solution containing 20 mg/kg, 50% hydrolysis occurs in 16.5 h. pKa 6.50 (20 ºC), base F.p. 142 °C (Pensky-Martens)
COMMERCIALISATION
History Fungicide reported by J. Kradel et al. (Proc. Br. Insectic. Fungic. Conf., 5th, 1969, 1, 16) and by E. H. Pommer et al. (ibid., 1969, 2, 347). Introduced in Germany (1969) by BASF AG. Patents DE 1164152 Manufacturers BASF
APPLICATIONS
Biochemistry Ergosterol biosynthesis inhibitor, by inhibition of steroid reduction (sterol-D14-reductase) and isomerisation (D8 to D7-isomerase). Mode of action Systemic fungicide with eradicant action. Absorbed by the leaves and roots, giving some protective action. Uses Control of Erysiphe graminis in cereals, Mycosphaerella spp. in bananas, Corticium salmonicolor and Exobasidium vexans in tea, and Oidium heveae in hevea. Mixed with carbendazim to extend spectrum of cereal diseases controlled. Phytotoxicity Scorch may occur on some winter wheat varieties under certain climatic conditions. Formulation types OL. Selected products: 'Calixin 86' (bananas) (BASF)
OTHER PRODUCTS
'Calixin' (BASF) mixtures: 'Opus Forte' (+ epoxiconazole) (BASF); 'Opus Plus' (+ epoxiconazole) (BASF); 'Rockett Ultra' (+ fenpropimorph) (BASF); 'Tango Duo' (+ epoxiconazole) (BASF); 'Granit TR' (+ bromuconazole) (Bayer CropScience) Discontinued products mixtures: 'BAS 46402F' * (+ fenpropimorph) (BASF); 'Cosmic' * (+ carbendazim+ maneb) (BASF); 'Gemini' * (+ fenpropimorph) (BASF); 'Meld' * (+ flusilazole) (BASF); 'Allicur' * (+ tebuconazole) (spray, UK) (Bayer); 'Alto Major' * (+ cyproconazole) (Novartis, Sandoz); 'Aurore' * (+ tebuconazole) (spray, France) (Bayer); 'Cerelux' * (+ flusilazole) (DuPont); 'Colt' * (+ triadimenol) (Bayer); 'Dipper' * (+ tebuconazole) (Bayer); 'Dorin' * (+ triadimenol) (Bayer); 'DUK 51' * (+ fenpropimorph+ flusilazole) (DuPont); 'Fusion' * (+ flusilazole) (DuPont); 'Gral' * (+ flusilazole) (DuPont); 'Joust' * (+ propiconazole) (Unicrop); 'Justice' * (+ fenpropimorph+ flusilazole) (DuPont); 'Moot' * (+ cyproconazole) (Novartis); 'Option' * (+ flusilazole) (DuPont); 'Tilt Turbo' * (+ propiconazole) (Ciba); 'Unison' * (+ fenbuconazole) (PBI)
ANALYSIS
Product analysis by acid-base titration. Residues in cereal straw and soil determined by colorimetry of a derivative or by gc-ms. Details available from BASF.
MAMMALIAN TOXICOLOGY
Oral Acute oral LD50 for rats 480 mg/kg. Skin and eye Acute percutaneous LD50 for rats >4000 mg/kg. Skin irritant; not an eye irritant (rabbits). Inhalation LC50 (4 h) for rats 4.5 mg/l air. NOEL (2 y) for rats 30 mg/kg diet (c. 1.8 mg/kg daily), for dogs 50 ppm diet. ADI 0.016 mg/kg b.w. Toxicity class WHO (a.i.) II; EPA (formulation) III EC classification R61| Xn; R20/22| Xi; R38| N; R50, R53 (for 4-tridecyl- component)
ECOTOXICOLOGY
Birds LD50 for quail 1388, ducks >2000 mg/kg. Fish LC50 (96 h) for trout 3.4 mg/l. Daphnia LC50 (48 h) 1.3 mg/l. Algae EC50 (96 h) 0.28 mg/l. Bees LD50 (24 h) >200 mg/bee. Worms LC50 (14 d) for Eisenia foetida 880 mg/kg.
ENVIRONMENTAL FATE
Animals In rats, following oral administration, tridemorph is rapidly absorbed, and is almost completely eliminated within 2 days. Plants Residues in cereal grains at harvest are <0.05 mg/kg, mostly polar material. Metabolism proceeds via oxidation of the 4-alkyl side-chain and/or by opening of the morpholine ring. Soil/Environment DT50 (lab.) 20-50 d, (field) 14-34 d. Koc 2500-10 000.