thenylchlor
Herbicide
HRAC K3 WSSA 15; chloroacetamide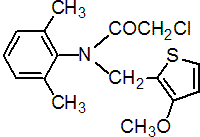 NOMENCLATURE
Common name thenylchlor (BSI, pa E-ISO)
IUPAC name 2-chloro-N-(3-methoxy-2-thenyl)-2',6'-dimethylacetanilide
Chemical Abstracts name 2-chloro-N-(2,6-dimethylphenyl)-N-[(3-methoxy-2-thienyl)methyl]acetamide
CAS RN [96491-05-3] Development codes NSK-850 (Tokuyama)
PHYSICAL CHEMISTRY
Composition Tech. is ³95% pure. Mol. wt. 323.8 M.f. C16H18ClNO2S Form White solid with a slight, sulfurous odour. M.p. 72-74 ºC B.p. 173-175 ºC/0.5 mmHg V.p. 2.8 ´ 10-2 mPa (25 ºC) KOW logP = 3.53 (25 ºC) S.g./density 1.19 (25 ºC) Solubility In water 11 ppm (20 ºC). Stability Decomposes at 260 ºC. Decomposed by u.v. irradiation (400 nm, 8 h). Stable to acid and base in range pH 3-8. F.p. 224 ºC
COMMERCIALISATION
Patents US 4802907 Manufacturers Tokuyama
APPLICATIONS
Biochemistry Inhibits cell division by blocking protein synthesis; more recent research suggests chloroacetamides may inhibit synthesis of very long chain fatty acids (J. Schmalfuss et al., Abstr. Meeting WSSA, Toronto, 40, 117-118, 2000; P. Böger, Abstr. III Int. Weed Control Congr., Brazil 2000). Uses Pre-emergence control of annual grass and broad-leaved weeds in paddy rice. Especially for control of Echinochloa spp. up to 2-leaf stage, at 270 g/ha. Phytotoxicity No crop (rice) injury after post-planting treatment. Formulation types EC; GR; Flowable wettable powder. Selected products: mixtures: 'Kusamets' (+ bensulfuron-methyl) (Tokuyama, Hokko, Nihon Nohyaku); 'Habikoran' (+ benzofenap+ cumyluron) (Yashima)
OTHER PRODUCTS
Mixtures: 'Papika A' (+ azimsulfuron+ bensulfuron-methyl+ cyhalofop-butyl) (Tokuyama, Nihon Nohyaku, Hokko, DuPont, Dow AgroSciences); 'Papika' (+ bensulfuron-methyl+ cyhalofop-butyl) (Tokuyama, Nihon Nohyaku, Hokko, DuPont, Dow AgroSciences); 'Bazooka 36' (+ azimsulfuron+ bensulfuron-methyl+ cyhalofop-butyl) (Nihon Nohyaku); 'Bazooka' (+ bensulfuron-methyl+ cyhalofop-butyl) (Nihon Nohyaku, Hokko, Tokuyama, DuPont); 'Kingdom' (+ bensulfuron-methyl+ pyributicarb) (DuPont); 'Kusamets FL' (+ bensulfuron-methyl) (Nihon Nohyaku, Tokuyama, Hokko); 'Onebest' (+ bromobutide+ pyrazoxyfen) (Ishihara Sangyo, Tokuyama); 'Papika A I Kilo' (+ azimsulfuron+ bensulfuron-methyl+ cyhalofop-butyl) (Nihon Nohyaku, Hokko, Tokuyama, Dow AgroSciences, DuPont); 'Step' (+ bensulfuron-methyl+ benzofenap) (Nihon Nohyaku) Discontinued products mixtures: 'Shocker' * (+ benzobicyclon) (Otsuka, Tokuyama, SDS Biotech KK)
ANALYSIS
By glc or hplc.
MAMMALIAN TOXICOLOGY
Oral Acute oral LD50 for rats and mice >5000 mg/kg. Skin and eye Acute percutaneous LD50 for rats >2000 mg/kg. Inhalation LC50 (4 h) for rats >5.67 mg/l. NOEL for rats 6.84 mg/kg daily.
ECOTOXICOLOGY
Birds LD50 for bobwhite quail >2000 mg/kg. Fish TLm (48 h) for carp 0.76 ppm. Daphnia LC50 (3 h) >100 ppm. Bees LD50 (96 h) >100 mg/bee. Worms LD50 (14 d) for earthworms >1000 ppm.
ENVIRONMENTAL FATE
Soil/Environment Koc 480-2846.