tetradifon
Acaricide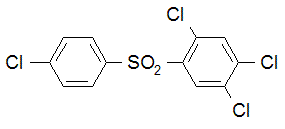 NOMENCLATURE
Common name tetradifon (BSI, E-ISO, (m) F-ISO, ANSI, ESA, JMAF); tedion* (former name, Turkey and USSR); no name (Portugal)
IUPAC name 4-chlorophenyl 2,4,5-trichlorophenyl sulfone
Chemical Abstracts name 1,2,4-trichloro-5-[(4-chlorophenyl)sulfonyl]benzene
CAS RN [116-29-0] EEC no. 204-134-2 Development codes V-18 (Duphar) Official codes ENT 23 737
PHYSICAL CHEMISTRY
Composition Tech. grade tetradifon is ³95% pure. Mol. wt. 356.0 M.f. C12H6Cl4O2S Form Colourless crystals; (tech., off-white powder with a weak aromatic odour. M.p. 146 ºC (pure); (tech. ³144 ºC) V.p. 9.4 ´ 10-7 mPa (25 ºC) KOW logP = 4.61 Henry 1.46 ´ 10-4 Pa m3 mol-1 S.g./density 1.68 (20 °C) Solubility In water 0.078 mg/l (20 ºC). In acetone 67.3, methanol 3.46, ethyl acetate 67.3, hexane 1.52, dichloromethane 297, xylene 105 (all in g/l, 20 °C) Stability Extremely stable, even in strong acids and alkalis. Stable to heat and to sunlight. Resistant to strong oxidising agents.
COMMERCIALISATION
History Acaricide reported by H. O. Huisman et al. (Nature (London), 1955, 176, 515). Introduced by N. V. Philips-Roxane (now Crompton Corp.). Patents NL 81359; US 2812281 Manufacturers Crompton
APPLICATIONS
Mode of action Non-systemic acaricide. Long-acting, penetrating through the plant tissue. Exhibits contact action on eggs and all non-adult stages, and also acts indirectly by sterilisation of females, leading to the development of non-viable eggs. Uses Larvicidal and ovicidal activity on a large range of phytophagous mites. Used on many fruit crops (including citrus), vegetables, cotton, hops, tea and ornamentals. For most crops, the recommended concentration is 0.0125-0.015% a.i.; in cotton, a dosage of 150-300 g/ha is used. Phytotoxicity Except for some species of ornamentals (dahlia, ficus, cissus, primula, kalanchoe and some rose cultivars), non-phytotoxic when used as recommended. Formulation types EC. Selected products: 'Tedion V-18' (Crompton); mixtures: 'Cekudit-combi' (+ dicofol+ dimethoate) (Cequisa); 'Vapcothion' (+ dicofol) (Vapco); 'Verecar T' (+ parathion-methyl) (Griffin)
OTHER PRODUCTS
'Tedone' (Isagro); 'Tetrasit' (AgroSan) mixtures: 'Acarelte Forte' (+ dinobuton) (Probelte); 'Acrex Super' (+ dinobuton) (Efthymiadis); 'Cekudit' (+ dicofol) (Cequisa); 'Dictator-Plus' (+ propargite) (Vapco); 'Rizonil' (+ propanil) (Papaeconomou); 'Sepiclar T' (+ methomyl) (Griffin) Discontinued products: 'Mitifon' * (Hellenic); 'Tedion' * (DuPont) mixtures: 'Childion' * (+ dicofol) (Hortichem)
ANALYSIS
Product analysis by glc with FID (CIPAC Handbook, 1983, 1B, 1901; AOAC Methods, 17th Ed., 981.02). Residues determined by glc (ibid., 976.23; Anal. Methods Pestic. Plant Growth Regul., 1972, 6, 488; A. van Rossum et al., ibid., 1978, 10, 119).
MAMMALIAN TOXICOLOGY
Oral Acute oral LD50 for male rats >14 700 mg/kg. Skin and eye Acute percutaneous LD50 for rabbits >10 000 mg/kg. Non-irritating to skin; slight eye irritant (rabbits). Inhalation LC50 (4 h) for rats >3 mg/l air. NOEL In 2 y feeding study, NOAEL for rats 300 mg/kg diet. In 2-generation study, reproduction NOEL for rats 200 mg/kg diet. No teratogenic effects in rats and rabbits. Not mutagenic. Other Acute i.p. LD50 for rats >2500, mice >500 mg/kg. Toxicity class WHO (a.i.) U; EPA (formulation) III
ECOTOXICOLOGY
Birds Dietary LC50 (8 d) for bobwhite quail, Japanese quail, pheasants, mallard ducks >5000 mg/kg diet. Fish LC50 (96 h) for bluegill sunfish 880, channel catfish 2100, rainbow trout 1200 mg/l. Daphnia LC50 (48 h) >2 ppm. Algae EC50 (96 h) for Selenastrum capricornutum >100 mg/l. Bees Not hazardous to bees when used as recommended; LD50 (contact) >1250 mg/bee. Worms LD50 >5000 mg/kg substrate. Other beneficial spp. Harmless at normal rates to the natural enemies of spider mites.
ENVIRONMENTAL FATE
EHC 67 (WHO, 1986). EHC report concludes there is no evidence of risk to the environment when used as recommended. Animals In rats, following oral administration of a single dose, 70% was excreted via the bile in the faeces within 48 hours. Plants Non-systemic; tetradifon is not metabolised on plants. Soil/Environment Strongly and irreversibly bound to soil/humic acid complex; virtually immobile in soil.