tefluthrin
Insecticide
IRAC 3; pyrethroid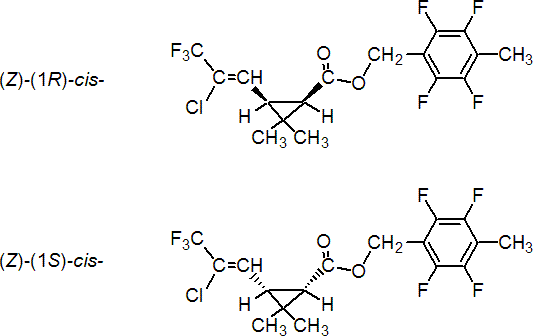 NOMENCLATURE
Common name tefluthrin (BSI, ANSI, draft E-ISO); téfluthrine ((f) draft F-ISO)
IUPAC name 2,3,5,6-tetrafluoro-4-methylbenzyl (Z)-(1RS,3RS)-3-(2-chloro-3,3,3-trifluoroprop-1-enyl)-2,2-dimethylcyclopropanecarboxylate
Roth: 2,3,5,6-tetrafluoro-4-methylbenzyl (Z)-(1RS)-cis-3-(2-chloro-3,3,3-trifluoroprop-1-enyl)-2,2-dimethylcyclopropanecarboxylate
Chemical Abstracts name [1a,3a(Z)]-(?-(2,3,5,6-tetrafluoro-4-methylphenyl)methyl 3-(2-chloro-3,3,3-trifluoro-1-propenyl)-2,2-dimethylcyclopropanecarboxylate
CAS RN [79538-32-2] Development codes PP993; ICIA0993 (both ICI)
PHYSICAL CHEMISTRY
Composition Tech. material is c. 92% pure. Mol. wt. 418.7 M.f. C17H14ClF7O2 Form Colourless solid; (tech., off-white). M.p. 44.6 ºC; (tech., 39-43 ºC) B.p. 156 ºC/1 mmHg V.p. 8.4 mPa (20 ºC); 50 mPa (40 ºC) KOW logP = 6.4 (20 ºC) Henry 2 ´ 102 Pa m3 mol-1 (calc.) S.g./density 1.48 g/ml (25 ºC) Solubility In water 0.02 mg/l (purified and buffered, pH 5 and 9, 20 ºC). In acetone, hexane, toluene, dichloromethane, ethyl acetate >500, methanol 263 (all in g/l, 21 ºC). Stability Stable for at least 9 months at 15-25 ºC. Stable for >84 days at 50 ºC. Stable to hydrolysis at pH 5-7 for >30 days. At pH 9, 7% hydrolysis in 30 days. At pH 7, 27-30% loss in aqueous solution exposed to sunlight for 31 days. pKa >9 (hydrolysis prevents measurement) F.p. 124 ºC
COMMERCIALISATION
History Insecticide reported by A. R. Jutsum et al. (Proc. 1986 Br. Crop Prot. Conf. - Pests Dis., 1, 97). Introduced in Belgium (1986) by ICI Agrochemicals (now Syngenta AG). Patents EP 31199; US 4405640 Manufacturers Syngenta
APPLICATIONS
Biochemistry Acts on the nervous system of insects, disturbs the function of neurons by interaction with the sodium channel. Uses Control of a wide range of soil insect pests, particularly those of the orders Coleoptera, Lepidoptera, and Diptera, in maize, sugar beet, wheat and other crops, as granular and seed treatment products. Formulation types CS; EC; GR. Selected products: 'Force' (Syngenta); 'Fireban' (Crompton); mixtures: 'Imprimo' (+ imidacloprid) (Bayer CropScience); 'Traffic' (+ imidacloprid) (Bayer CropScience)
OTHER PRODUCTS
'Evict' (Syngenta, Bayer CropScience); 'Forca' (Syngenta); 'Forza' (Syngenta); 'Attack' (Sopra); 'Force ST' (Bayer CropScience) mixtures: 'Austral Plus' (+ anthraquinone+ fludioxonil) (Syngenta); 'Montur' (+ imidacloprid) (Bayer CropScience) Discontinued products mixtures: 'Austral' * (+ anthraquinone+ oxine-copper) (seed treatment) (La Quinoléine); 'Elyxor Star' * (+ anthraquinone+ fludioxonil) (Novartis)
ANALYSIS
Product and residue analysis by glc. Details available from Syngenta.
MAMMALIAN TOXICOLOGY
Oral Oral and percutaneous LD50 values of tefluthrin depend on such factors as carrier, the test species, its sex, age and degree of fasting; values reported sometimes differ markedly. Acute oral LD50 for male rats 22, female rats 35 (corn oil carrier), male mice 46, female mice 57 mg/kg. Skin and eye Acute percutaneous LD50 for male rats 316, female rats 177 mg/kg. Slight eye and skin irritation (rabbits). No skin sensitisation (guinea pigs). Inhalation LC50 (4 h) for male rats 0.05, female rats 0.04 mg/l. NOEL (2 y) for rats 25 mg/kg diet; (1 y) for dogs 0.5 mg/kg daily. ADI 0.005 mg/kg. Toxicity class WHO (a.i.) Ib EC classification (T+; R26/28 | R24 | N; R50)
ECOTOXICOLOGY
Birds Acute oral LD50 for mallard ducks 4190, bobwhite quail 730 mg/kg. Sub-acute dietary LC50 (5 d) for mallard ducks 2317, bobwhite quail 15 000 mg/kg. Fish LC50 (96 h) for rainbow trout 60, bluegill sunfish 130 ng/l. Under field conditions, adsorption of tefluthrin on bottom and suspended sediments should prevent any hazard. Daphnia EC50 (48 h) 70 ng/l. Algae Selenastrum capricornutum >1.05 mg/l. Bees LD50 (contact) 280 ng/bee; (oral) 1880 ng/bee. Worms 0.32 mg/kg soil.
ENVIRONMENTAL FATE
Animals For a study of the metabolism of tefluthrin in the goat, see Pestic. Sci., 1989, 25, 375. Plants No residues have been found on major crops treated at recommended rates (limit of detection 0.01 mg/kg). Soil/Environment DT50 in soil 150 d (5 ºC), 24 d (20 ºC), 17 d (30 ºC), partly due to loss by volatilisation. At normal application rates, there was no effect on soil microflora or earthworms.