tecloftalam
Bactericide
FRAC 34; phthalamic acid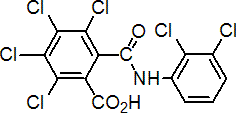 NOMENCLATURE
Common name: tecloftalam (BSI, draft E-ISO); técloftalame ((m) draft F-ISO)
IUPAC name: 3,4,5,6-tetrachloro-N-(2,3-dichlorophenyl)phthalamic acid
Chemical Abstracts name: 2,3,4,5-tetrachloro-6-[[(2,3-dichlorophenyl)amino]carbonyl]benzoic acid
CAS RN: [76280-91-6]
Development codes: F-370; SF-7306; SF 7402 (Sankyo)
PHYSICAL CHEMISTRY
Mol. wt.: 447.9
M.f.: C14H5Cl6NO3
Form: White powder.
M.p.: 198-199 ºC
V.p.: 8.16 ´ 10-3 mPa (20 ºC)
KOW: logP = 2.17
Solubility: In water 14 mg/l (26 ºC). In acetone 25.6, benzene 0.95, dimethylformamide 162, dioxane 64.8, ethanol 19.2, ethyl acetate 8.7, methanol 5.4, xylene 0.16 (all in g/l).
Stability: Degraded by sunlight or u.v. light. Hydrolysed in strongly acidic media. Stable under alkaline or neutral conditions.
COMMERCIALISATION
History: Bacteriostat reported by Y. Takahi (Jpn. Pestic. Inf., 1985, No. 46, p. 25). Introduced in Japan (1987) by Sankyo Co., Ltd.
Manufacturers: Sankyo Agro
APPLICATIONS
Mode of action: Bacteriostat.
Uses: Control of bacterial leaf blight (caused by Xanthomonas campestris pv. oryzae) in paddy rice, at 300-400 g/ha.
Formulation types: DP; WP.
Selected products: 'Shirahagen-S' (Sankyo Agro)
OTHER PRODUCTS
Discontinued products: 'Shiragen' * (Sankyo)
ANALYSIS
Product: analysis by hplc.
Residues: determined by glc with ECD after conversion to the corresponding imide. Details available from Sankyo Agro Co., Ltd.
MAMMALIAN TOXICOLOGY
Oral: Acute oral LD50 for male rats 2340, female rats 2400, male mice 2010, female mice 2220 mg/kg.
Skin and eye: Acute percutaneous LD50 for rats >1500, mice >1000 mg/kg.
Inhalation: LC50 (4 h) for rats >1.53 mg/l.
NOEL: for male rats 52.2, female rats 5.8 mg/kg daily.
ADI: (Japan) 0.058 mg/kg.
Other: Non-carcinogenic, non-teratogenic, non-mutagenic and no adverse effects on reproduction.
ECOTOXICOLOGY
Fish: LC50 (48 h) for carp 30 mg/l.
Daphnia: LC50 (3 h) 300 mg/l.
ENVIRONMENTAL FATE
Soil/Environment: Half-life in soil 4-10 d, undergoing loss of chlorine from the benzoic acid ring.