streptomycin
See also The BioPesticide Manual, 2nd Ed., entry 2:145
Bactericide
FRAC 25, D4; glucopyranosyl antibiotic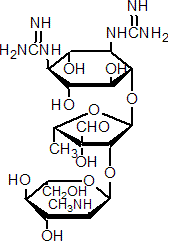 NOMENCLATURE
streptomycin
Common name streptomycin (BSI, E-ISO, BAN, JMAF); streptomycine ((f) F-ISO); no name (Denmark)
IUPAC name O-2-deoxy-2-methylamino-a-L-glucopyranosyl-(1®2)-O-5-deoxy-3-C-formyl-a-L-lyxofuranosyl-(1®4)-N1,N3-diamidino-D-streptamine; 1,1'-[1-L-(1,3,5/2,4,6)-4-[5-deoxy-2-O-(2-deoxy-2-methylamino-a-L-glucopyranosyl)-3-C-formyl-a-L-lyxofuranosyloxy]-2,5,6-trihydroxycyclohex-1,3-ylene]diguanidine
Chemical Abstracts name O-2-deoxy-2-(methylamino)-a-L-glucopyranosyl-(1®2)-O-5-deoxy-3-C-formyl-a-L-lyxofuranosyl-(1®4)-N,N'-bis(aminoiminomethyl)-D-streptamine
CAS RN [57-92-1]
streptomycin sesquisulfate
CAS RN [3810-74-0]
PHYSICAL CHEMISTRY
streptomycin
Mol. wt. 581.6 M.f. C21H39N7O12 Stability Stable 2£pH£9, but unstable in strong acids and alkalis.
streptomycin sesquisulfate
Mol. wt. 1457.3 M.f. C42H84N14O36S3 Form Off-white, hygroscopic powder. Solubility In water >20 g/l (pH 7, 28 ºC). In ethanol 0.9, methanol >20, petroleum ether 0.02 (all in g/l). Stability Stable; hygroscopic. Specific rotation [a]D25 -84?
COMMERCIALISATION
Production Streptomycin is obtained by fermentation of Streptomyces griseus, isolated as sesquisulfate. History Antibacterial antibiotic reported by Schatz et al. (Proc. Soc. Exp. Biol. Med., 1944, 55, 66). Structure, see Brink & Folkers, J. Am. Chem. Soc., 1947, 69, 1234; Wolfrom et al., ibid., 1950, 76, 3675.
APPLICATIONS
Biochemistry Inhibits protein synthesis by binding to the 30S ribosomal sub-unit, causing a mis-reading of the genetic code. Mode of action Bactericide with systemic action. Uses Control of bacterial shot-hole, bacterial rots, bacterial canker, bacterial wilts, fire blight, and other bacterial diseases (especially those caused by gram-positive species of bacteria) in pome fruit, stone fruit, citrus fruit, olives, vegetables, potatoes, tobacco, cotton, and ornamentals, at 50-1000 ppm. Phytotoxicity Chlorosis may occur on grapes, pears, peaches, and some ornamentals. Phytotoxicity is reduced by mixture with ferric chloride or citrate. Formulation types WP; Liquid. Compatibility Incompatible with pyrethrins and alkaline materials.
streptomycin
Selected products: 'Cuprimicín 17' (Ingeniería Industrial)
streptomycin sesquisulfate
Selected products: 'Agrept' (Meiji Seika); 'Agrimycin 17' (Syngenta); 'AS-50' (Syngenta); 'Bac-Master' (Amvac)
OTHER PRODUCTS
streptomycin
'AAstrepto' (Bayer CropScience); 'Paushamycin' (Paushak); 'Plantomycin' (Aries); 'Streptrol' (Nufarm Americas) mixtures: 'Cuprimicín 100' (+ oxytetracycline) (Ingeniería Industrial); 'Cuprimicín 500' (+ copper sulfate (tribasic)+ oxytetracycline) (Ingeniería Industrial)
streptomycin sesquisulfate
Mixtures: 'Dustret' (+ maneb) (Agsco); 'Seed Treatment For Potatoes' (+ maneb) (Helena)
ANALYSIS
Product analysis by bioassay with suitable bacteria.
MAMMALIAN TOXICOLOGY
streptomycin
Oral Acute oral LD50 for mice >10 000 mg/kg. Skin and eye Acute percutaneous LD50 for male mice 400, female mice 325 mg/kg. May cause allergic skin reaction. NOEL In chronic toxicity studies on rats, NOEL was 125 mg/kg. Other Acute i.p. LD50 for male mice 340, female mice 305 mg/kg.
streptomycin sesquisulfate
Oral Acute oral LD50 for rats 9000, mice 9000, hamsters 400 mg/kg.
ECOTOXICOLOGY
streptomycin
Birds Practically non-toxic. Fish Slightly toxic. Bees Practically non-toxic.
ENVIRONMENTAL FATE
Animals Poorly absorbed following oral administration. Not metabolised and most is recovered unchanged in urine and faeces.