silthiofam
Fungicide
FRAC U2, C7; thiophenecarboxamide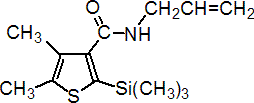 NOMENCLATURE
Common name silthiofam (BSI, pa ISO)
IUPAC name N-allyl-4,5-dimethyl-2-(trimethylsilyl)thiophene-3-carboxamide
Chemical Abstracts name 4,5-dimethyl-N-2-propenyl-2-(trimethylsilyl)-3-thiophenecarboxamide
Other names silthiopham CAS RN [175217-20-6] Development codes MON65500 (Monsanto)
PHYSICAL CHEMISTRY
Mol. wt. 267.5 M.f. C13H21NOSSi Form White, crystalline powder. M.p. 86.1-88.3 °C KOW logP = 3.48 (20 °C) Solubility In water 35.3 mg/l (20 °C).
COMMERCIALISATION
History Discovered in 1993-94 by Monsanto Co. Reported by R. E. Beale et al. (Proc. Br. Crop Prot. Conf. - Pests Dis., 1998, 2, 343). Introduced in Ireland in 1999. Patents EP 538231 Manufacturers Monsanto
APPLICATIONS
Biochemistry Inhibits transport of ATP from within the mitochondria to the cytosol (T. Joseph-Horne et al., Pestic. Biochem. Physiol. 67 168 (2000)). Mode of action Protectant fungicide with long-lasting control. Uses For antifungal seed treatment in cereals (wheat, barley and triticale). Applied at 25 g/100 kg seed. Formulation types FS. Selected products: 'Latitude' (Monsanto)
MAMMALIAN TOXICOLOGY
Oral Acute oral LD50 for rats >5000 mg/kg. Skin and eye Acute percutaneous LD50 for rats >5000 mg/kg. Non-irritating to skin and eyes (rabbits). Other Negative in Ames, CHO/HGPRT gene mutation, in vitro cytogenicity and mouse micronucleus tests.
ENVIRONMENTAL FATE
Soil/Environment In soil, DT50 <365 d.