probenazole
Plant activator
FRAC P2, P2; benzoisothiazole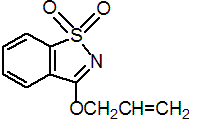 NOMENCLATURE
Common name probenazole (JMAF)
IUPAC name 3-allyloxy-1,2-benz[d]isothiazole 1,1-dioxide
Chemical Abstracts name 3-(2-propenyloxy)-1,2-benzisothiazole 1,1-dioxide
CAS RN [27605-76-1]
PHYSICAL CHEMISTRY
Mol. wt. 223.3 M.f. C10H9NO3S Form Colourless crystals. M.p. 138-139 ºC Solubility Slightly soluble in water (c. 150 mg/l). Readily soluble in acetone, dimethylformamide and chloroform. Slightly soluble in methanol, ethanol, diethyl ether and benzene. Very slightly soluble in hexane and ligroin.
COMMERCIALISATION
History Reported by M. Uchiyama et al. (Agric. Biol. Chem., 1973, 37, 737) and reviewed by T. Ohashi (Jpn. Pestic. Inf., 1980, 37, 37). Introduced by Meiji Seika Kaisha Ltd in collaboration with Hokko Chemical Industry Co., Ltd. and first registered in 1975. Manufacturers Meiji Seika
APPLICATIONS
Biochemistry Stimulates the salicylic acid-mediated defence signalling pathway, upstream of salicylic acid (K. Yoshioka, et al., Plant J. 2001, 25, 149). Mode of action Systemically activates the natural defence system of host plant. Absorbed by the roots (M. Iwata et al., Ann. Phytopath. Soc. Japan, 1980, 46, 297; M. Iwata, Pesticide Outlook, 2001, 12(1), 28). Has no in vitro microbiocidal activity (T. Watanabe, et. al., J. Pesticide Sci. 1977, 2, 395). Uses Control of rice blast, bacterial leaf blight, and bacterial grain rot in paddy rice, at 2.4-3.2 kg/ha; also bacterial diseases of vegetables such as bacterial rot in lettuce, black rot in cabbage, slimy soft rot in chinese cabbage, bacterial soft rot in welsh onion and angular leaf spot in cucumbers. Formulation types GR. Selected products: 'Oryzemate' (Meiji Seika, Hokko)
OTHER PRODUCTS
'Dr. Oryze-Starkle' (Meiji Seika, Mitsui, Hokko) mixtures: 'Dr. Oryze-Prince' (+ fipronil) (Meiji Seika, Hokko); 'Judge' (+ benfuracarb) (Otsuka, Meiji Seika)
ANALYSIS
Product by glc; details from Meiji Seika.
MAMMALIAN TOXICOLOGY
Oral Acute oral LD50 for rats 2030, mice 2750-3000 mg/kg. Skin and eye Acute percutaneous LD50 for rats >5000 mg/kg. NOEL In chronic toxicity studies on rats, NOEL was 110 mg/kg. Non-mutagenic. Not teratogenic in rats (600 mg/kg diet). Other Not mutagenic in standard tests. Toxicity class WHO (a.i.) U
ECOTOXICOLOGY
Fish LC50 (48 h) for carp 6.3, Japanese killifish >6.0 mg/l.
ENVIRONMENTAL FATE
Soil/Environment Half-life in soil <24 h (alluvial or volcanic soil).