niclosamide
Molluscicide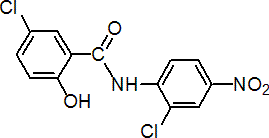 NOMENCLATURE
niclosamide
Common name niclosamide (BSI, E-ISO, (m) F-ISO, BAN, Germany (for veterinary use))
IUPAC name 2',5-dichloro-4'-nitrosalicylanilide
Chemical Abstracts name 5-chloro-N-(2-chloro-4-nitrophenyl)-2-hydroxybenzamide
CAS RN [50-65-7] Development codes Bayer 25 648; Bayer 73; SR 73
niclosamide-olamine
Common name niclosamide-olamine (BSI, E-ISO, (m) F-ISO, BAN); clonitralid (Germany, for public health use)
CAS RN [1420-04-8] Development codes SR73
PHYSICAL CHEMISTRY
niclosamide
Mol. wt. 327.1 M.f. C13H8Cl2N2O4 Form Almost colourless crystals. M.p. 230 ºC V.p. <1 mPa (20 ºC) KOW logP = 1 (pH 9.6) Solubility In water 1.6 (pH 6.4), 110 (pH 9.1) (both in mg/l, 20 ºC). Soluble in common organic solvents such as ethanol and diethyl ether. Stability Hydrolysed in aqueous solution, DT50 (20 ºC) c. 7 d (pH 6.9), 18.8 d (pH 13.3). Stable to heat. Decomposes under u.v. irradiation. Hydrolysed by concentrated acid or alkali.
niclosamide-olamine
Mol. wt. 388.2 M.f. C15H15Cl2N3O5 Form Yellow, crystalline solid. M.p. Decomposes at 208 ºC V.p. <<1 mPa (20 °C) Solubility In water 0.1 g/l (20 ºC). In n-hexane, toluene <0.1, dichloromethane 0.015, isopropanol 0.25 (all in g/l, 20 ºC).
COMMERCIALISATION
History Molluscicidal properties described by R. Gönnert & E. Schraufstätter (Proc. Int. Conf. Trop. Med. Malar., 1958, 2,5) and development discussed by R. Gönnert et al. (Z. Naturforsch., Teil B, 1961, 16,95). The olamine salt introduced as a molluscicide by Bayer AG. Patents DE 1126374; US 3079297; US 3113067 Manufacturers Bayer CropScience
APPLICATIONS
Mode of action Molluscicide with respiratory and stomach action. Uses Control of golden apple snail in rice. Control of schistosomiasis and fascioliasis in man by killing fresh-water snails which act as intermediate hosts. Also used for veterinary control of tapeworm infestations. Formulation types EC.
niclosamide
Compatibility Incompatible with acidic materials. Selected products: 'Bayluscide' (EC250) (Bayer CropScience) Formulation types WP.
niclosamide-olamine
Selected products: 'Bayluscide' (WP70) (Bayer CropScience); 'Trithin N' (Trithin)
ANALYSIS
Product analysis by redox titration (WHO Specifications Pesticides Used in Public Health, p. 309). Residues in water measured by colorimetry (R. Strufe, Pflanzenschutz-Nachr. (Engl. Ed.), 1962, 15, 42) or by titration (details from Bayer CropScience).
MAMMALIAN TOXICOLOGY
niclosamide
Oral Acute oral LD50 for rats ³5000 mg/kg. Skin and eye Acute percutaneous LD50 for rats >1000 mg/kg (EC250). Strong eye irritant; skin reacts after repeated and long-lasting exposure (rabbits). Inhalation LC50 for rats (1 h) 20 mg/l air. NOEL (2 y) for male rats 2000, female rats 8000, mice 200 mg/kg diet; (1 y) for dogs 100 mg/kg b.w. ADI 3 mg/kg b.w. (proposed) Other No relevant mutagenic or embryotoxic effect. Toxicity class WHO (a.i.) U; EPA (formulation) II
niclosamide-olamine
Oral Acute oral LD50 for rats >5000 mg tech./kg. Skin and eye Acute percutaneous LD50 for rats >2000 mg (as 70% WP)/kg. Inhalation LC50 (4 ´ 1 h) 3630-8224 mg/m3 air (as 70% WP).
ECOTOXICOLOGY
niclosamide
Birds LD50 for mallard ducks >500 mg/kg. Fish LC50 (96 h) for golden orfe 0.1 mg/l. Daphnia LC50 (48 h) 0.2 mg/l. Bees No significant mortality effects.
ENVIRONMENTAL FATE
Animals Following oral administration, 14C-niclosamide was absorbed and metabolised in the rat. The major metabolite in the urine was the reduced compound 2',5-dichloro-4'-aminosalicylanilide ([10558-45-9]); several labile conjugates were also detected. The major constituent in the faeces was unchanged niclosamide, although considerable amounts of 2',5-dichloro-4'-aminosalicylanilide were also present; parent compound is present not only because of non-absorption, but also because of release from the biliary conjugate by b-glucuronidase of the intestinal microflora (L. A. Griffiths & V. Facchini, "The major metabolite of niclosamide: Identification by mass spectrometry" in Recent Developments in Mass Spectrometry in Biochemistry and Medicine, 2, 121-126 (1979)). Another study indicates that niclosamide is very poorly absorbed after dermal application. Radioactivity in the urine and faeces after application of 14C-niclosamide accounted for <2% and 10% of the labelled compound applied to pig and rat skin, respectively; c. 20% was recovered from the area of application (P. Brennan et al., "Dermal absorption of niclosamide in rats and minipigs" in Biopharmaceutics & Drug Disposition, Vol. 12, 547-556). Studies in fish with niclosamide and its 2-aminoethanol salt, indicate that niclosamide is rapidly excreted, as the glucuronide conjugate, and that there is little biomagnification; see D. P. Schultz & P. D. Harman, J. Agric. Food Chem., 26, 1226-1230 (1978); J. L. Allen et al., "Excretion of the Lampricide Bayer 73 by Rainbow Trout", Special Technical Publication, Philadelphia, 667, 52-61 (1979); and M. S. M. Marzouk, "Laboruntersuchungen an Karpfen über Rückstände von Bayluscid und dessen Einwirkung auf das Karpfenblut", PhD Thesis, Univ. Munich, Germany (1981). Soil/Environment There was a rapid decline in niclosamide residues in paddy water; degradation followed pseudo-first order kinetics, DT50 0.3 d. At harvest, niclosamide residues were below the detection limit of 0.03 mg/kg in rice leaves, stalk and grain, indicating that the use of niclosamide as a molluscicide in rice production does not lead to persistent residues in the rice paddy ecosystem (S. M. F. Calumpang et al., Bull. Environ. Contam. Toxicol., 55, 494-501 (1995)). An aqueous solution of 14C-niclosamide was 95% degraded after 14 d exposure to long-wavelength u.v. light. No degradation occurred within 56 days either in buffered solution (pH 5.0, 6.9 and 8.7) or in pond water (initial pH 7.8) (D. P. Schultz & P. D. Harman, U.S. Fish and Wildlife Service: Investigations in Fish Control, 83, 1-5 (1978)).