Metrafenone
http://www.apvma.gov.au/registration/assessment/docs/prs_metrafenone.rtf
COMMON NAME: Metrafenone (ISO approved)
IUPAC NAME: 3'-Bromo-2,3,4,6'-tetramethoxy-2',6-dimethylbenzophenone
CAS NAME: (3-Bromo-6-methoxy-2-methylphenyl)(2,3,4-trimethoxy-6-methylphenyl)-methanone
CAS REGISTRY NUMBER: 220899-03-6
MANUFACTURER'S CODE: CL 375839; BAS 560 F
MOLECULAR FORMULA: C19H21BrO5
MOLECULAR WEIGHT: 409.280
STRUCTURE: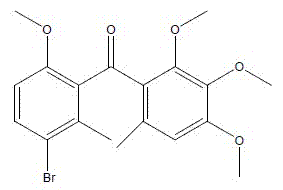 Constituent Specification Level
Metrafenone White to beige coloured solid Minimum 975 g/kg
COLOUR White to chalky-white
PHYSICAL STATE Solid
ODOUR Low intensive musty smell
MELTING POINT 99.2 – 100.8 °C
VAPOUR PRESSURE AT 20°C : 1.53 × 10–4 Pa (1.53 ×10–1 mbar) at 20°C
2.56 × 10–4 Pa (2.56 × 10–1 mbar) at 25°C
WATER SOLUBILITY AT 20°C 0.552 (pH 5), 0.492 (pH 7), 0.457 (pH 9) (all in mg/L).
SOLUBILITY IN ORGANIC SOLVENTS acetone 403, acetonitrile 165, dichloromethane 1950, ethyl acetate 261, n-hexane 4.8, methanol 26.1, toluene 363 (all in g/L)
PARTITION COEFFICIENTS (N-OCTANOL/WATER)
Log Kow: 4.3 (pH 4.0, 25 °C)
Metrafenone is a new active constituent, for use in grapevines and cucurbits for the control of powdery mildew.
Metrafenone 500g/L SC is a new fungicidal product, which will be used for the control of powdery mildew in grapevines and cucurbit. it is intended to be used at a rate of 150-300mL product/ha in cucurbits and 20mL product/100L water (dilute application rate) in grapevines.