metominostrobin
Fungicide
FRAC 11, C3; strobilurin type: oximinoacetamide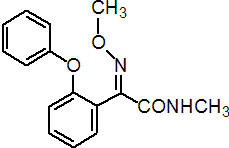 NOMENCLATURE
Common name metominostrobin (BSI, pa ISO)
IUPAC name (E)-2-methoxyimino-N-methyl-2-(2-phenoxyphenyl)acetamide
Chemical Abstracts name (E)-a-methoxyimino-N-methyl-2-phenoxybenzeneacetamide
CAS RN [133408-50-1] Development codes SSF-126 (Shionogi)
PHYSICAL CHEMISTRY
Composition >97% pure. Mol. wt. 284.3 M.f. C16H16N2O3 Form White crystals. M.p. 87-89 °C V.p. 0.018 mPa (25 °C, gas saturation method) KOW logP = 2.32 (20 °C) S.g./density 1.27-1.30 (20 °C) Solubility In water 0.128 g/l (20 °C). In dichloromethane 1380, chloroform 1280, dimethyl sulfoxide 940 (all in g/l, 25 °C). Stability Stable to heat, and to acidic and alkaline media. Slightly unstable to light. F.p. 226 °C (Seta flash tester)
COMMERCIALISATION
History Discovered in 1989 by Shionogi Co., Ltd (whose agrochemical interests became Aventis CropScience Shionogi K.K in 2001, now part of Bayer CropScience). Registered in Japan in 1998.
APPLICATIONS
Biochemistry Respiratory electron transport inhibitor. Acts by inhibiting cytochrome pathway (Complex III) between cytochrome b and cytochrome c1, at the ubiquinol oxidising site. Mode of action Systemic fungicide with protective and curative action. Uses For control of Pyricularia oryzae on rice, at 1.5-1.8 kg/ha; applied before or at outbreak of infection symptoms. Formulation types GR; WP.
OTHER PRODUCTS
'Oribright' (Shionogi, Bayer CropScience)
MAMMALIAN TOXICOLOGY
Oral Acute oral LD50 for male rats 776, female rats 708 mg/kg. Skin and eye Acute percutaneous LD50 for male and female rats >2000 mg/kg. Not a skin irritant; slight eye irritant (rabbits, 15% GR formulation). Not a skin sensitiser (15% GR formulation). Inhalation LC50 (4 h) for male and female rats >1880 mg/m3.
ECOTOXICOLOGY
Birds Acute oral LC50 for mallard ducks >5200 ppm. Fish LC50 (96 h) for carp 18.1 mg/l. Daphnia EC50 (48 h) for D. pulex 14.0 mg/l; (24 h) 22.3 mg/l. Algae EC50 (72 h) for Chlorella vulgaris 51.0 mg/l; NOEC (72 h) 10 mg/l. Bees LC50 (48 h) >100 mg/bee. Worms LC50 (14 d) for Eisenia foetida 114 mg/kg; NOEC (14 d) 56.2 mg/kg. Other beneficial spp. LC50 (5 d) for silkworms 250 ppm.
ENVIRONMENTAL FATE
Soil/Environment Soil DT50 98 d (aerobic).