furilazole
Herbicide safener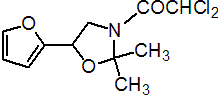 NOMENCLATURE
Common name furilazole (BSI, pa E-ISO)
IUPAC name (RS)-3-dichloroacetyl-5-(2-furyl)-2,2-dimethyloxazolidine
Chemical Abstracts name (?-3-(dichloroacetyl)-5-(2-furanyl)-2,2-dimethyloxazolidine
CAS RN [121776-33-8]; (R)- isomer [121776-57-6] Development codes MON 13900 (Monsanto)
PHYSICAL CHEMISTRY
Mol. wt. 278.1 M.f. C11H13Cl2NO3 Form Light brown powder (tech.). M.p. 96.6-97.6 °C V.p. 0.88 mPa (20 °C) KOW logP = 2.12 (23 ºC) Solubility In water 0.0197 g/100 ml (20 °C). F.p. 135 °C
COMMERCIALISATION
History Reported by B. H. Bussler et al. (Proc. Br. Crop Prot. Conf. - Weeds, 1991, 1, 39). Introduced by Monsanto Co. in 1995. Manufacturers Monsanto
APPLICATIONS
Mode of action Safener which acts by enhancing herbicide metabolism. Uses Reduces injury from several herbicides in certain grass crops. Especially effective for minimising growth retardation from sulfonylurea and imidazolinone herbicides in maize. Selected products: mixtures: 'Degree' (+ acetochlor) (Monsanto); 'Guardian' (+ acetochlor) (Monsanto); 'Harness' (+ acetochlor) (Monsanto)
OTHER PRODUCTS
Mixtures: 'Channel' (+ acetochlor) (Monsanto); 'Kadet' (+ acetochlor) (Monsanto)
MAMMALIAN TOXICOLOGY
Oral Acute oral LD50 for rats 869 mg/kg. Skin and eye Acute percutaneous LD50 for rats >5000 mg/kg. Non-irritating to skin; slight eye irritant (rabbits). Non-sensitising to skin (guinea pigs). Inhalation LC50 for rats >2.3 mg/l air. NOEL (90 d) for rats 100 ppm (5 mg/kg), dogs 15 mg/kg.
ECOTOXICOLOGY
Birds LD50 for bobwhite quail >2000 mg/kg. LC50 for bobwhite quail and mallard ducks >5620 ppm. Fish LC50 (96 h) for bluegill sunfish 4.6, rainbow trout 6.2 mg/l. Daphnia LC50 (48 h) 26 mg/l. Bees LD50 >100 mg/bee.
ENVIRONMENTAL FATE
Plants The metabolic pathway in maize and sorghum appears to involve conversion to oxamic acid, (?-2-[5-(2-furyl)-2,2-dimethyl-1,3-oxazolidin-3-yl]-2-oxoacetic acid, and/or an alcohol, interconversion of the acid and alcohol, and conjugation of the alcohol to give 2-[5-(2-furyl)-2,2-dimethyl-1,3-oxazolidin-3-yl]-2-oxoethyl b-D-glucopyranoside. Further metabolism results in incorporation into glucose/fructose and other natural plant components. Soil/Environment Estimated DT50 in aerobic soils 33-53 d, in anaerobic soils 13-15 d.