furathiocarb
Insecticide
IRAC 1A; carbamate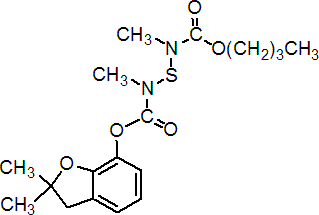 NOMENCLATURE
Common name furathiocarb (BSI, draft E-ISO, (m) draft F-ISO)
IUPAC name butyl 2,3-dihydro-2,2-dimethylbenzofuran-7-yl N,N'-dimethyl-N,N'-thiodicarbamate
Chemical Abstracts name 2,3-dihydro-2,2-dimethyl-7-benzofuranyl 2,4-dimethyl-5-oxo-6-oxa-3-thia-2,4-diazadecanoate
CAS RN [65907-30-4] EEC no. 265-974-3 Development codes CGA 73 102 (Ciba-Geigy)
PHYSICAL CHEMISTRY
Mol. wt. 382.5 M.f. C18H26N2O5S Form Yellow, viscous liquid. B.p. >250 ºC (OECD 13) V.p. 3.9 ´ 10-3 mPa (25 ºC) (OECD 104) KOW logP = 4.6 (25 ºC) (OECD 117) Henry 1.36 ´ 10-4 Pa m3 mol-1 (calc.) S.g./density 1.148 (20 ºC) (OECD 109) Solubility In water 11 mg/l (25 ºC). Readily miscible with most common organic solvents, including acetone, methanol, isopropanol, hexane, and toluene. Stability Stable up to 400 ºC. In water DT50 4 d (pH 9).
COMMERCIALISATION
History Insecticide reported by F. Bachmann & J. Drabek (Proc. Br. Crop Prot. Conf. - Pests Dis., 1981, 1, 51). Introduced in 1981 by Ciba-Geigy AG (now Syngenta Crop Protection). Patents BE 865290; GB 1583713
APPLICATIONS
Biochemistry Cholinesterase inhibitor. Mode of action Systemic insecticide with contact and stomach action. Uses Control of soil-dwelling insects in maize, oilseed rape, sorghum, sugar beet, sunflowers, and vegetables. Applied as a foliar, soil, or seed treatment. Formulation types CS; DS; EC; GR; Liquid seed treatment. Selected products: 'Deltanet' (Syngenta)
OTHER PRODUCTS
'Promet' (Syngenta)
ANALYSIS
Product analysis by glc. Residues determined by glc. Details available from Syngenta.
MAMMALIAN TOXICOLOGY
Oral Acute oral LD50 for rats 53, mice 327 mg/kg. Skin and eye Acute percutaneous LD50 for rats >2000 mg/kg. Mild skin and eye irritant (rabbits). Inhalation LC50 (4 h) for rats 0.214 mg/l air. NOEL for rats 0.35 mg/kg b.w. daily. Toxicity class WHO (a.i.) Ib; EPA (formulation) II EC classification T+; R26| T; R25| Xn; R48/22| Xi; R36/38| R43| N; R50, R53
ECOTOXICOLOGY
Birds Acute oral LD50 for quail and mallard ducks <25 mg/kg. Fish LC50 (96 h) for rainbow trout, carp, and bluegill sunfish 0.03-0.12 mg/l. Daphnia LC50 (48 h) 1.8 mg/l. Bees Toxic to bees.
ENVIRONMENTAL FATE
EHC 64 (WHO, 1986; a review of carbamate insecticides in general). Animals Metabolic transformation in rats proceeds via rapid and complete hydrolysis, followed by oxidation and conjugation. Excretion occurs mainly via kidney. Plants In plants, metabolised to carbofuran and its hydroxy and keto derivatives. Soil/Environment In soil, rapidly decomposed to carbofuran, followed by complete metabolism. Under laboratory and field conditions, furathiocarb is not considered to be mobile. Main degradation product, carbofuran, is classified as mobile.