flumorph
Fungicide
cinnamic acid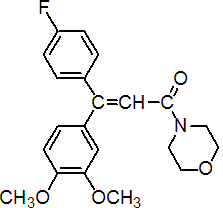 NOMENCLATURE
Common name flumorph (BSI, pa ISO)
IUPAC name 4-[3-(3,4-dimethoxyphenyl)-3-(4-fluorophenyl)acryloyl]morpholine
Chemical Abstracts name 4-[3-(3,4-dimethoxyphenyl)-3-(4-fluorophenyl)-1-oxo-2-propenyl]morpholine
Other names flumorf (former BSI proposed name) CAS RN [211867-47-9] Development codes SYP-L190; MIKE
PHYSICAL CHEMISTRY
Composition A mixture of (Z)- and (E)- isomers, typically in the proportions 50:50. Mol. wt. 371.4 M.f. C21H22FNO4 Form Colourless crystals. M.p. 105-110 °C KOW logP = 2.20 Solubility Readily soluble in acetone, ethyl acetate. Stability Hydrolytically, photolytically and thermally stable under normal conditions (20-40 °C).
COMMERCIALISATION
History Discovered by Shenyang Research Institute of Chemical Industry in 1994 and reported by C. Liu et al. (Proc. BCPC Conf. - Pests Dis., 2000, 2, 549). Patents US 6020332 Manufacturers Shenyang
APPLICATIONS
Mode of action Fungicide with protectant, curative and antisporulant activity. Uses Under development for control of Pseudoperonospora cubensis (cucumber downy mildew), Peronospora parasitica (brassica downy mildew), Plasmopara viticola (grape down mildew) and Phytophthora infestans (tomato late blight) at 100-200 mg/l. Formulation types EC; WP; WG. Selected products: mixtures: 'Mike' (+ mancozeb) (Shenyang)
ANALYSIS
By glc and hplc.
MAMMALIAN TOXICOLOGY
Oral Acute oral LD50 for male rats >2710, female rats >3160 mg/kg. Skin and eye Acute percutaneous LD50 for male and female rats 2150 mg/kg. Non-irritating to skin and eyes (rabbits). NOEL (2 y) for male rats 63.64, female rats 16.65 mg/kg b.w. daily. Other No mutagenic, teratogenic or carcinogenic effects observed in Ames and micronucleus tests. Toxicity class WHO (a.i.) III (Institute classification); EPA (formulation) III
ECOTOXICOLOGY
Birds Acute oral LD50 (7 d) for Japanese quail >5000 mg/kg b.w. Fish LC50 (96 h) for carp 45.12 mg/l. Bees LD50 (24 h, contact) for honeybees >170 mg/bee. Other beneficial spp. LC50 for silkworm (Antheraea pernyi) >10 000 mg/l.
ENVIRONMENTAL FATE
Animals Following dosing to Wistar rat, >90% of radiolabel was excreted within 48 h in the urine and faeces.