fenazaquin
Acaricide
IRAC 21; METI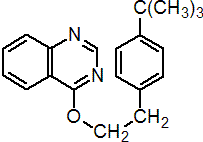 NOMENCLATURE
Common name fenazaquin (BSI, ANSI, draft E-ISO)
IUPAC name 4-tert-butylphenethyl quinazolin-4-yl ether
Chemical Abstracts name 4-[[4-(1,1-dimethylethyl)phenyl]ethoxy]quinazoline
CAS RN [120928-09-8] Development codes EL-436 (Lilly); Lilly 193136; XDE 436; DE 436 (both Dow)
PHYSICAL CHEMISTRY
Mol. wt. 306.4 M.f. C20H22N2O Form Colourless crystals. M.p. 77.5-80 ºC V.p. 3.4 ´ 10-3 mPa (25 ºC) KOW logP = 5.51 Henry 4.74 ´ 10-3 Pa m3 mol-1 (calc.) S.g./density 1.16 Solubility In water 0.22 mg/l (20 ºC). In chloroform >500, toluene 500, acetone 400, methanol 50, isopropanol 50, acetonitrile, hexane 33 (all in g/l, 20 ºC). Stability DT50 of aqueous solution exposed to sunlight 15 d (pH 7, 25 ºC).
COMMERCIALISATION
History Reported by C. Longhurst et al. (Proc. Br. Crop Prot. Conf. - Pests Dis., 1992, 1, 51). Introduced by DowElanco (agrochemical interests now Dow AgroSciences) in 1993. Rights sold to Margarita Internacional in 2002. Manufacturers Margarita
APPLICATIONS
Biochemistry Affects metabolism, inhibiting the mitochondrial electron transport chain by binding with Complex I at Co-enzyme site Q. Mode of action Contact acaricide with good knockdown activity on motile forms, as well as true ovicidal activity, preventing eclosion of mite eggs. Uses Acaricide effective, at 10-25 g/hl, against Eutetranychus, Panonychus and Tetranychus spp. and Brevipalpus phoenicis in almonds, apples, citrus, cotton, grapes and ornamentals. Formulation types EC; SC. Selected products: 'Magister' (Margarita)
OTHER PRODUCTS
'Boramae' (Margarita); 'Demitan' (Margarita); 'Matador' (Margarita); 'Pride Ultra' (Margarita); 'Turkoise' (Margarita)
ANALYSIS
Details from Gowan Co.
MAMMALIAN TOXICOLOGY
Oral Acute oral LD50 for male rats 134, female rats 138, male mice 2449, female mice 1480 mg/kg. Skin and eye Acute percutaneous LD50 for rabbits >5000 mg/kg. Slightly irritating to eyes; non-irritating to skin. Not a skin sensitiser. Inhalation LC50 (4 h) for male and female rats 1.9 mg/l air. NOEL 0.5 mg/kg b.w. ADI 0.005 mg/kg. Other No evidence of mutagenicity, teratogenicity or carcinogenicity. Toxicity class WHO (a.i.) II EC classification T; R25| Xn; R20| N; R50, R53
ECOTOXICOLOGY
Birds Acute oral LD50 for bobwhite quail 1747, mallard ducks >2000 mg/kg. Acute dietary LD50 for bobwhite quail and mallard ducks >5000 ppm. Fish LC50 (96 h) for bluegill sunfish 34.1, trout 3.8 mg/l. Daphnia LC50 (48 h) 4.1 mg/l. Bees LD50 (contact) 8.18 mg/bee.
ENVIRONMENTAL FATE
Soil/Environment Soil DT50 c. 45 d. Koc 15 800 (sandy loam), 42 100 (clay loam); Kd 54 (sand), 487 (clay loam).