dinocap
Fungicide, acaricide
FRAC 29, C5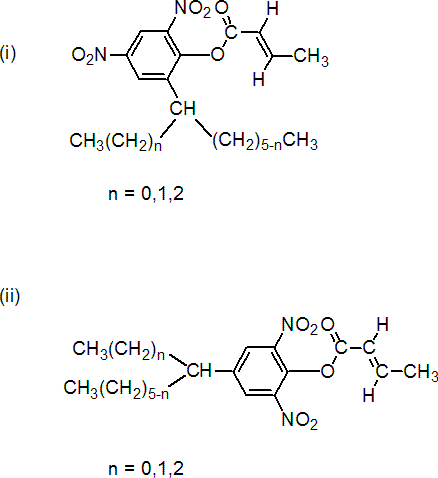 NOMENCLATURE
Common name dinocap (BSI, E-ISO, (m) F-ISO); DPC (JMAF); no name (Republic of South Africa)
IUPAC name 2,6-dinitro-4-octylphenyl crotonates and 2,4-dinitro-6-octylphenyl crotonates in which 'octyl' is a mixture of 1-methylheptyl, 1-ethylhexyl and 1-propylpentyl groups
Chemical Abstracts name (E)-2-(1-methylheptyl)-4,6-dinitrophenyl 2-butenoate
CAS RN [131-72-6] single compound; [39300-45-3] mixed isomers but unstated stereochemistry EEC no. 254-408-0 (for mixed isomers) Development codes CR-1693
Official codes ENT 24 727
PHYSICAL CHEMISTRY
Composition: Originally thought to be 2-(1-methylheptyl)-4,6-dinitrophenyl crotonate (i, n=0). Now known that the commercial material is a mixture comprising 2.0-2.5 parts of 6-octyl isomers (i) to 1.0 part of 4-octyl isomers (ii). See IUPAC definition for specification of 'octyl'.
Mol. wt.: 364.4
M.f.: C18H24N2O6
Form: Dark red viscous liquid with a pungent odour.
M.p.: -22.5 °C
B.p.: 138-140 ºC/0.05 mmHg; at ambient pressure, decomp. above 200 °C
V.p.: 3.33 ´ 10-3 mPa (25 ºC, vapour pressure balance)
KOW: logP = 4.54 (20 °C)
Henry: 1.36 ´ 10-3 Pa m3 mol-1 (calc.)
S.g./density: 1.10 (20 ºC)
Solubility: In water 0.151 mg/l. 2,4- isomer in acetone, 1,2-dichloroethane, ethyl acetate, n-heptane, methanol and xylene >250 g/l; 2,6- isomer in acetone, 1,2-dichloroethane, ethyl acetate and xylene >250 g/l, in n-heptane 8.5-10.2 g/l, in methanol 20.4-25.3 g/l.
Stability: Rapidly decomposed by light. Decomposes >32 ºC. Stable in acidic media. Hydrolysis of the ester group occurs in alkaline media. 2-(1-methylheptyl)-4,6-dinitrophenyl crotonate hydrolysed in aqueous methanol; (25 ºC) DT50 229 d (pH 5), 56 h (pH 7), 17 h (pH 9).
F.p.: 67 ºC (Pensky-Martens closed cup)
COMMERCIALISATION
History: Introduced by Rohm & Haas Co. (now Dow AgroSciences).
Patents: US 2526660; US 2810767
Manufacturers: Dow AgroSciences
APPLICATIONS
Biochemistry: Uncouples mitochondrial oxidative phosphorylation.
Mode of action: Contact fungicide with protective and curative action. Secondary effect as a non-systemic acaricide.
Uses: Primarily sold as a mildewicide for use on Uncinula necator in grapes in Europe (at 210 g/ha). Also used to control powdery mildews of various crops including pome and stone fruit, citrus, cucurbits, vegetables, tobacco, hops and ornamentals. Secondarily causes some suppression of phytophagous mites such as Panonychus ulmi, and Hemitarsonemus latus (citrus silver mite).
Phytotoxicity: Non-phytotoxic, except for glasshouse roses under certain conditions. Phytotoxicity is increased at higher temperatures.
Formulation types: DP; EC; WP.
Compatibility: Incompatible with oils and oil-based sprays, and alkaline materials.
Selected products: 'Karathane' (Dow AgroSciences); 'Sialite' (Siapa)
OTHER PRODUCTS
'Korthane' (Dow AgroSciences)
mixtures: 'Dikar' (+ mancozeb) (Dow AgroSciences); 'Karamat' (+ fenbuconazole) (Dow AgroSciences); 'Sabithane' (+ myclobutanil) (Dow AgroSciences); 'Neptune' (+ difenoconazole) (Syngenta); 'Preface' (+ penconazole) (Syngenta)
Discontinued products: 'Arathane' * (Rohm & Haas); 'Crotothane' * (Aventis)
ANALYSIS
Product analysis by spectrophotometry (R. F. Black et al., J. Assoc. Off. Anal. Chem., 1974, 57, 653), or by lc; details available from Dow AgroSciences.
Residues determined by glc (A. Ambrus et al., ibid., 1981, 64, 733; Pestic. Anal. Man., 1979, I, 201-A, 201-G, 201-I; Man. Pestic. Residue Anal., 1987, I, S19; Anal. Methods Residues Pestic., 1988, Part II; Anal. Methods Pestic. Plant Growth Regul., 1972, 6, 568).
MAMMALIAN TOXICOLOGY
Reviews: FAO/WHO 89 (see part 2 of the Bibliography).
Oral: Acute oral LD50 for male rats 990, female rats 1212 mg/kg.
Skin and eye: Acute percutaneous LD50 for rabbits ³2000 mg/kg . Irritating to skin and eyes (rabbits).
Inhalation: LC50 (4 h) for rats ³3 mg/l air.
NOEL: NOEL (18 months) for female mice 2.7 mg/kg b.w. daily, for male mice 14.6 mg/kg b.w. daily; (2 y) for rats 6-8 mg/kg b.w. daily; there were no carcinogenic effects in rodents; for dogs 0.4 mg/kg b.w. daily. Teratogenic effects were produced in 3 species, with the relevant NOAEL in mice being 4 mg/kg b.w. daily.
ADI: (JMPR) 0.008 mg/kg b.w. [2000].
Toxicity class: WHO (a.i.) III; EPA (formulation) III
EC classification: Xn; R22| Xi; R38 (for mixed isomers)
ECOTOXICOLOGY
Birds: Acute oral LD50 for bobwhite quail >2150 mg/kg. Dietary LC50 (8 d) for mallard ducks 2204 ppm, for bobwhite quail 2298.
Fish: Toxic to fish. LC50 for rainbow trout 13, bluegill 5.3, carp 14, fathead minnow 20 mg/l.
Daphnia: LC50 (48 h) 4.2 mg/l.
Algae: EC50 (72 h) >105 mg/l.
Other aquatic spp.: LC50 for Chironomus riparius 390 mg/l.
Bees: Low toxicity to bees; acute LD50 (contact) 29 mg/bee; acute LC50 (oral) 6.5 mg/bee.
Worms: LC50 (14 d) 120 mg/kg.
Other beneficial spp.: Under laboratory conditions, dinocap is harmful to Aphidius rhopalosiphi and Typhlodromus pyri. However, under field conditions, effects are minimised due to rapid degradation. Dinocap has no adverse effects to predatory mites under field conditions when used to label recommendations (M. Miles & E. Green, Proc. 2002 Br. Crop Prot. Conf .- Pests Dis., 297-302).
ENVIRONMENTAL FATE
Dinocap is readily degraded in plants, animals and the environment to give 2,4- and 2,6- dinitrophenol (DNOP). Dinocap and its residues have no significant leaching potential and pose no threat to groundwater.
Animals: In rats, following oral administration, dinocap is almost entirely eliminated rapidly in the urine and faeces. In dairy cows, dinocap and its metabolites are excreted almost completely in the faeces, with only a small amount in the urine. The nitro groups are enzymically reduced to amino groups, and ester hydrolysis also takes place, to give DNOP.
Plants: Metabolism follows the same course as in animals.
Soil/Environment: Soil: DT50 (lab, aerobic, 20°C) 4-24 d; DT90 13.5-113 d. DT50 (lab, anaerobic, 20°C) 8 d. No significant soil photolysis. The major metabolite is DNOP, formed by ester hydrolysis, with subsequent microbial degradation to CO2. Koc 2889-310 200, depending on soil type; dinocap and its residues have no leaching potential. Water: DT50 (sterile, dark, 20°C) >1 y (pH 4), 16-30 d (pH 7), 3.6-9 d (pH 9). Photolysis in water is more rapid; DT50 <1 d (25°C, pH 4). In dark water/sediment systems, dinocap rapidly dissipates from water to sediment, DT50 (lab) <7 d, and is readily degraded. In aquatic systems, the major metabolite is DNOP. Air: No significant volatile losses are expected following application. Any small amounts present in air are estimated to degrade with atmospheric t½ 1.9 h.