dimoxystrobin
Fungicide
strobilurin type: oximinoacetamide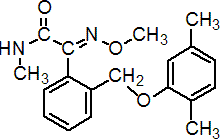 NOMENCLATURE
Common name dimoxystrobin (BSI, pa ISO)
IUPAC name (E)-2-(methoxyimino)-N-methyl-2-[a-(2,5-xylyloxy)-o-tolyl]acetamide
Chemical Abstracts name (aE)-2-[(2,5-dimethylphenoxy)methyl]-a-(methoxyimino)-N-methylbenzeneacetamide
CAS RN [149961-52-4] Development codes BAS 505 F (BASF)
PHYSICAL CHEMISTRY
Mol. wt. 326.4 M.f. C19H22N2O3 Form White crystalline solid. M.p. 138.1-139.7 °C V.p. 6.0 ´ 10-4 mPa (20 °C) KOW logP = 3.59 S.g./density 1.235 (room temperature) Solubility In water 4.3 (pH 5.7), 3.5 (pH 8.0) (both mg/l, 20 °C). Stability Stable >30 d under acidic, neutral or basic conditions.
COMMERCIALISATION
History Under development by BASF.
APPLICATIONS
Biochemistry Inhibits mitochondrial respiration by blocking electron transfer at the cytochrome bc1 complex. Mode of action Fungicide with protectant, curative, and translaminar properties. Uses Under development for disease control in cereals, vegetables and turf. Selected products: 'Honor' (BASF); mixtures: 'Swing Gold' (+ epoxiconazole) (BASF)
MAMMALIAN TOXICOLOGY
Oral Acute oral LD50 for rats >5000 mg/kg. Skin and eye Acute percutaneous LD50 for rats >2000; irritating to skin, non-irritating to eyes (rabbits); not a skin sensitiser (guinea pigs).
ECOTOXICOLOGY
Birds Acute oral LD50 for bobwhite quail >2000 mg/kg. Dietary LC50 (5d) for bobwhite quail and mallard duck >5000 mg/kg. Fish LC50 for rainbow trout 0.04 mg/l. Bees LD50 (oral) >79 µg/bee, (contact) >100 µg/bee.
ENVIRONMENTAL FATE
Animals In rats, rapid absorption and fast and complete excretion. Soil/Environment Soil DT50 2-39 d; Koc 196-935.