dimethomorph
Fungicide
FRAC 15, H1; cinnamic acid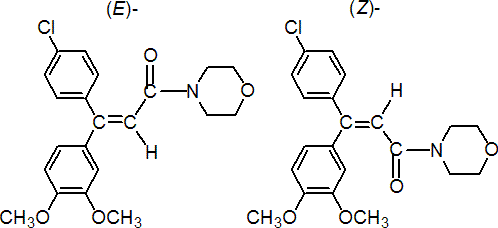 NOMENCLATURE
Common name dimethomorph (BSI, draft E-ISO); diméthomorphe ((m) draft F-ISO)
IUPAC name (E,Z)-4-[3-(4-chlorophenyl)-3-(3,4-dimethoxyphenyl)acryloyl]morpholine
Chemical Abstracts name (E,Z)-4-[3-(4-chlorophenyl)-3-(3,4-dimethoxyphenyl)-1-oxo-2-propenyl]morpholine
CAS RN [110488-70-5] EEC no. 404-200-2 Development codes CME 151 (Celamerck); SAG 151; WL 127 294 (Shell); AC 336379; CL 183776; CL 336379 (all Cyanamid); BAS 550F
PHYSICAL CHEMISTRY
Composition (E)- to (Z)- ratio is c. 1:1. Mol. wt. 387.9 M.f. C21H22ClNO4 Form Colourless to off-white powder to crystals. M.p. 125.2-149.2 ºC; (E)- isomer 136.8-138.3 ºC; (Z)- isomer 166.3-168.5 ºC V.p. (E)- isomer 9.7 ´ 10-4 mPa; (Z)- isomer 1.0 ´ 10-3 mPa (both 25 ºC) KOW logP = 2.63 (E)- isomer; 2.73 (Z)- isomer (both 20 ºC) Henry (E)- isomer 5.4 ´ 10-6 Pa m3 mol-1; (Z)- isomer 2.5 ´ 10-5 Pa m3 mol-1 S.g./density Bulk density 1318 kg/m3 (20 ºC) Solubility In water 81.1 (pH 5), 49.2 (pH 7), 41.8 (pH 9) (all in mg/l, 20 °C). In n-heptane 0.12 (E), 0.053 (Z); xylene 22.2 (E), 6.4 (Z); 1,2-dichloroethane 182.5 (E), 92.5 (Z); ethyl acetate 46.6 (E), 9.5 (Z); acetone 105.6 (E), 18 (Z), methanol 33.5 (E), 7.5 (Z) (all in mg/l). In n-hexane 0.11, methanol 39, ethyl acetate 48.3, toluene 49.5, acetone 100, dichloromethane 461 (all for (EZ), in mg/l). Stability Hydrolytically and thermally stable under normal conditions. Stable for >5 years in the dark. The (E)- and (Z)- isomers are interconverted in sunlight. pKa -1.305 (calc.) F.p. Not flammable
COMMERCIALISATION
History Fungicide reported by G. Albert et al. (Proc. 1988 Br. Crop Prot. Conf. - Pests Dis., 1, 17). Introduced in 1993 by Shell (now BASF AG). Patents EP 120321; US 5952496. Manufacturers BASF
APPLICATIONS
Biochemistry Inhibits the formation of the oomycete fungal cell wall. Mode of action Local systemic fungicide with good protectant and antisporulant activity. Only the (Z)- isomer is intrinsically active, but, because of rapid interconversion of isomers in the light, it has no advantage over the (E)- isomer in practice. Uses Fungicide effective against Oomycetes, especially Peronosporaceae and Phytophthora spp. (but not Pythium spp.) in vines, potatoes, tomatoes and other crops. Used in combination with contact fungicides, and applied at 2.0-2.5 kg formulated product/ha. Formulation types DC; WG; WP. Selected products: 'Acrobat' (BASF); 'Forum' (BASF)
OTHER PRODUCTS
'Festival' (BASF); 'Forum R' (with copper) (BASF); 'Paraat' (with copper) (BASF) mixtures: 'Acrobat MZ' (+ mancozeb) (BASF); 'CL 197509' (+ mancozeb) (BASF); 'Forum Star' (+ folpet) (BASF); 'Invader' (+ mancozeb) (BASF); 'Pantheos' (+ folpet) (BASF); 'Saracen' (+ mancozeb) (BASF)
ANALYSIS
Product analysis by hplc (CIPAC Handbook, 1995, G, 39-46). Details available from BASF.
MAMMALIAN TOXICOLOGY
Oral Acute oral LD50 for male rats 4300, female rats 3500, male mice >5000, female mice 3700 mg/kg b.w. Skin and eye Acute percutaneous LD50 for rats >5000 mg/kg b.w. Not irritant to skin or eyes of rabbits. Not a skin sensitiser (guinea pigs, M&K test). Inhalation LC50 (4 h) for rats >4.2 mg/l air (maximum attainable concentration). NOEL (2 y) for rats 200 mg/kg diet (9 mg/kg b.w. daily); (1 y) for dogs 450 mg/kg diet (15 mg/kg daily). Non-oncogenic in 2 y studies in rats and mice. ADI 0.09 mg/kg b.w. Other Acute i.p. LD50 for male rats 327, female rats 297 mg/kg b.w. Toxicity class WHO (a.i.) U; EPA (formulation) III ('Acrobat MZ')
ECOTOXICOLOGY
Birds Acute oral LD50 for mallard ducks and Northern bobwhite >2000 mg/kg. Dietary LC50 >5200 ppm. Fish LC50 (96 h) for bluegill sunfish >25, carp 14, rainbow trout 6.2 mg/l. Daphnia EC50 (48 h) >10.6 mg/l. Algae EC50 (96 h) 29.2 mg/l. Bees Non-toxic to honeybees at >100 mg/bee (contact), at >32.4 mg/bee (oral); (highest dose tested). Worms EC50 for earthworms >1000 mg/kg soil. Other beneficial spp. Dimethomorph 150 g/l DC is harmless to various non-target arthropods [E<25%].
ENVIRONMENTAL FATE
Animals In rats, the major route of metabolism is demethylation of one of the dimethoxy groups or by oxidation of one of the CH2 groups (ortho- or meta- position) of the morpholine ring. The major route of excretion was the faeces. Plants The only significant component of the residue, when present, is the parent compound. Soil/Environment Moderately mobile (Kd 2.09-11.67 ml/g, Koc 290-566). Aerobic soil metabolism DT50 41-96 d (20 °C, pF2); field dissipation DT50 34-53 d; no degradates identified except for CO2. Water/sediment DT50wat 5-15 d, DT50sed 7-33 d.