dimepiperate
Herbicide
HRAC N WSSA 8; thiocarbamate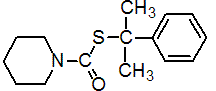 NOMENCLATURE
Common name dimepiperate (BSI, draft E-ISO, (m) draft F-ISO)
IUPAC name S-1-methyl-1-phenylethyl piperidine-1-carbothioate
Chemical Abstracts name S-(1-methyl-1-phenylethyl) 1-piperidinecarbothioate
CAS RN [61432-55-1] EEC no. 262-784-2 Development codes MY-93 (Mitsubishi Petrochemical); MUW-1193
PHYSICAL CHEMISTRY
Mol. wt. 263.4 M.f. C15H21NOS Form Wax-like solid. M.p. 38.8-39.3 ºC B.p. 164-168 ºC/0.75 mmHg V.p. 0.53 mPa (30 ºC) KOW logP = 4.02 S.g./density 1.08 (25 °C) Solubility In water 20 mg/l (25 ºC). In acetone 6.2, chloroform 5.8, cyclohexanone 4.9, ethanol 4.1, hexane 2.0 (all in kg/l, 25 ºC). Stability Stable >1 y (30 ºC), and in light when dry. Aqueous solutions are stable at pH 1 and pH 14.
COMMERCIALISATION
History Herbicide reported by M. Tanaka (Jpn. Pestic. Inf., 1984, No. 45, p. 18) and by K. Ikeda & A. Goh (ibid., 1989, No. 55, p. 15). Introduced and manufactured by Mitsubishi Petrochemical Co., Ltd. (now Mitsubishi Chemical Corp., who sold their agrochemical business to Nihon Nohyaku Co., Ltd in 2002) and commercialised by Rhône-Poulenc Yuka Agro KK (now Bayer CropScience). Manufacturers Bayer CropScience
APPLICATIONS
Biochemistry Inhibits lipid synthesis (not ACCase inhibition). Mode of action Systemic herbicide, absorbed by the roots, leaves and stems, with translocation mainly upwards within the plant. Uses Control of Echinochloa crus-galli in flooded rice. Formulation types EC; GR.
OTHER PRODUCTS
'Yukamate' (Nihon Nohyaku) mixtures: 'Push' (+ bensulfuron-methyl) (Hokko, Bayer CropScience, DuPont); 'Ranger' (+ benfuresate+ bensulfuron-methyl) (Bayer CropScience, Hokko, DuPont)
ANALYSIS
Residues determined by glc.
MAMMALIAN TOXICOLOGY
Reviews Pesticide Science Society of Japan 14(1), (1989). Oral Acute oral LD50 for male rats 946, female rats 959, male mice 4677, female mice 4519 mg/kg. Skin and eye Acute percutaneous LD50 for rats >5000 mg/kg. Non-irritating to eyes and skin (rabbits). Non-sensitising to skin (guinea pigs). Inhalation LC50 (4 h) for rats >1.66 mg/l. NOEL (2 y) for rats 0.104 mg/kg. ADI 0.001 mg/kg. Other No teratogenic activity detected in rats or rabbits; 2-generation reproduction studies in rats showed no abnormality. Toxicity class WHO (a.i.) III; EPA (formulation) III EC classification Xn; R22| N; R51, R53
ECOTOXICOLOGY
Birds Acute oral LD50 for male Japanese quail >2000, hens >5000 mg/kg. Fish LC50 (48 h) for carp 5.8, rainbow trout 5.7 mg/l. Daphnia LC50 (3 h) 40 mg/l.
ENVIRONMENTAL FATE
EHC 76 (WHO, 1988; general review of thiocarbamates). Plants Both absorption and translocation are greater in cockspur than in rice. Soil/Environment Rapidly degraded in paddy fields, DT50 <7 d.