chromafenozide
Insecticide
diacylhydrazine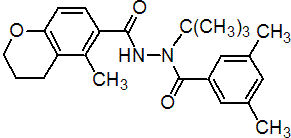 NOMENCLATURE
Common name chromafenozide (BSI, pa ISO)
IUPAC name 2'-tert-butyl-5-methyl-2'-(3,5-xyloyl)chromane-6-carbohydrazide
Chemical Abstracts name 3,4-dihydro-5-methyl-2H-1-benzopyran-6-carboxylic acid 2-(3,5-dimethylbenzoyl)-2-(1,1-dimethylethyl)hydrazide
Other names N'-tert-butyl-N'-(3,5-dimethylbenzoyl)-5-methyl-6-chromancarbohydrazide CAS RN [143807-66-3] Development codes ANS-118
PHYSICAL CHEMISTRY
Composition Tech. is ³91%. Mol. wt. 394.5 M.f. C24H30N2O3 Form White crystalline powder. M.p. 186.4 °C B.p. 205-207 °C/66.7 Pa V.p. £4 ´ 10-6 mPa (25 °C) KOW logP = 2.7 Henry 1.41 ´ 10-6 Pa m3 mol-1 S.g./density 1.173 (20 °C) Solubility In water 1.12 ppm (20°C). Moderately soluble in polar organic solvents. Stability Stable up to 150 °C. Stable for 5 days in aqueous buffers (pH 4.0, 7.0 and 9.0, 50 °C). Photodegradation DT50 in aqueous buffers 5.6-26.1 d.
COMMERCIALISATION
History Developed jointly by Nippon Kayaku Co., Ltd. and Sankyo Co., Ltd, and first registered in Japan in 1999. Reported by M. Yanagi et al. (Proc. BCPC Conf. - Pests Dis., 2000, 1, 27). Patents US 5378726 Manufacturers Nippon Kayaku; Sankyo Agro
APPLICATIONS
Biochemistry Ecdysteroid agonist which competes at the binding site of the receptor protein of the insect moulting hormone. Initiates a precocious, incomplete and lethal moult. Mode of action Immediately after application, treated larvae stop feeding; this can be attributed to induction of ecdysis. Uses Control of lepidopteran larvae in rice, fruit, vegetables, tea, cotton, beans, and forestry, at 5-200 g/ha. Formulation types AP (dust); EC; WP. Selected products: 'Matric' (Sankyo Agro, Nippon Kayaku)
OTHER PRODUCTS
'Acro' (Nippon Kayaku); 'Killat' (Nippon Kayaku); 'Phares' (Nippon Kayaku); 'Virtu' (Nippon Kayaku)
ANALYSIS
Product and residue analysis by hplc.
MAMMALIAN TOXICOLOGY
Oral Acute oral LD50 for rats and mice >5000 mg/kg. Skin and eye Acute percutaneous LD50 for rats >2000 mg/kg. Non-irritant to skin; slightly irritant to eyes (rabbits). Mild dermal sensitiser (guinea pigs). Inhalation LC50 (4 h) for rats >4.68 mg/l air. NOEL NOAEL (2 y) for rats 44.0 mg/kg b.w. daily; (87 w) for mice 484.8 mg/kg b.w. daily; (12 mo) for dogs 27.2 mg/kg b.w. daily. ADI 0.27 mg/kg b.w. Other Not mutagenic (3 tests), not carcinogenic (rats, mice), not teratogenic (rats); no reproductive effects (rats, rabbits).
ECOTOXICOLOGY
Birds Acute oral LD50 for Japanese quail >5000 mg/kg b.w. Fish LC50 (96 h) for rainbow trout >20, carp >50 mg/l. Algae NOEC (3 d) for Selenastrum capricornutum >4.76 mg/l. Other aquatic spp. LC50 (3 h) for Moina macrocopa >100 mg/l; (96 h) for Neocaridina denticulata >200 mg/l. Bees LD50 (48 h) for honeybees (contact) >100 mg/bee; (feeding) >133.2 mg/bee. Worms LC50 (14 d) for earthworms >1000 mg/kg soil. Other beneficial spp. Safe to predatory mites, wasps and other beneficial species.
ENVIRONMENTAL FATE
Animals In rats, chromafenozide is rapidly excreted within 48 hours after administration, and is not persistent in tissues and organs. The major component excreted is unchanged chromafenozide. Plants In apples, rice and soya beans, many minor metabolites are detected in small amounts, but the major component is unchanged chromafenozide. Soil/Environment DT50 for field dissipation 44-113 d (upland soil, 2 sites), 22-136 d (paddy soil, 2 sites). Koc 236-3780.