carbosulfan
Insecticide
IRAC 1A; carbamate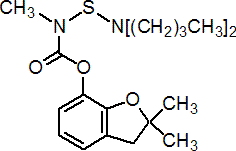 NOMENCLATURE
Common name carbosulfan (BSI, ANSI, draft E-ISO, (m) draft F-ISO)
IUPAC name 2,3-dihydro-2,2-dimethylbenzofuran-7-yl (dibutylaminothio)methylcarbamate
Chemical Abstracts name 2,3-dihydro-2,2-dimethyl-7-benzofuranyl [(dibutylamino)thio]methylcarbamate
CAS RN [55285-14-8] EEC no. 259-565-9 Development codes FMC 35 001 Official codes OMS 3022
PHYSICAL CHEMISTRY
Mol. wt. 380.6 M.f. C20H32N2O3S Form Orange to brown clear, viscous liquid. M.p. No clearly defined m.p. B.p. Thermally unstable when vacuum distilled (65 mmHg). V.p. 3.58 ´ 10-2 mPa (25 °C) KOW logP = 5.4 Henry 4.66 ´ 10-3 Pa m3 mol-1 (calc.) S.g./density 1.054 (20 ºC) Solubility In water 3 ppm (25 ºC). Miscible with most organic solvents, e.g. xylene, hexane, chloroform, dichloromethane, methanol, ethanol, acetone, etc. Stability Hydrolysed in aqueous media; DT50 0.2 h (pH 5), 11.4 h (pH 7), 173.3 h (pH 9). F.p. 40 ºC (closed cup)
COMMERCIALISATION
History Insecticide reported by E. C. Maitlen & N. A. Sladen (Proc. Br. Crop Prot. Conf., 1979, 2, 557). Introduced by FMC Corp. in 1982. Manufacturers FMC; Kuo Ching; Sharda; Sundat; Zhejiang
APPLICATIONS
Biochemistry Cholinesterase inhibitor; activity is due to in vivo cleavage of the N-S bond, resulting in conversion to carbofuran. Mode of action Systemic insecticide with contact and stomach action. Uses Control of a wide range of soil-dwelling and foliar insect pests. Examples of uses include control of millipedes, springtails, symphylids, wireworms, pygmy mangold beetles, frit flies, white grubs, aphids, caterpillars, flea beetles, Colorado beetles, stem borers, leafhoppers, planthoppers, codling moth, scales and free-living nematodes. The product is used in a wide range of crops, e.g. cotton, sugar beet, potatoes, rice, top fruit, citrus, maize, vegetables, sugar cane and coffee. Formulation types CS; DP; EC; GR; UL; WP. Compatibility Compatible with liquid fertilisers. Selected products: 'Marshal' (FMC); 'Posse' (FMC); 'Sheriff' (FMC); 'Spi' (FMC); 'Bright' (Vapco); 'Suden' (Sanonda)
OTHER PRODUCTS
'Advantage' (FMC); 'Beam' (FMC); 'Gazette' (FMC); 'Agrostar' (AgroSan); 'Combicoat' (Satec); 'Pilarsufan' (Pilarquim); 'Weilin' (Zhejiang) mixtures: 'Gazette Prince' (+ fipronil) (BASF)
ANALYSIS
Product analysis by rplc (CIPAC Handbook, 1992, E, 35). Residues determined by glc (B. Leppert et al., J. Agric. Food Chem., 1983, 31, 220; 1984, 32, 1441) or by hplc. Details available from FMC Agricultural Chemicals Group.
MAMMALIAN TOXICOLOGY
Reviews FAO/WHO 47, 49 (see part 2 of the Bibliography). Oral Acute oral LD50 for male rats 250, female rats 185 mg/kg. Skin and eye Acute percutaneous LD50 for rabbits >2000 mg/kg. Moderate skin irritant; not an eye irritant. Inhalation LC50 (1 h) for male rats 1.53, female rats 0.61 mg/l air. NOEL (2 y) (oncogenic) for rats and mice 20 mg/kg diet. ADI (JMPR) 0.01 mg/kg b.w. [1986]. Toxicity class WHO (a.i.) II EC classification T; R23/24| R43| N; R50, R53
ECOTOXICOLOGY
Birds Acute oral LD50 for mallard ducks 10, quail 82, pheasants 20 mg/kg. Fish LC50 (96 h) for bluegill sunfish 0.015, trout 0.042 mg/l. Daphnia LC50 (48 h) 1.5 mg/l. Algae EC50 (96 h) 20 mg/l. Bees Toxic to bees; LD50 (24 h, oral) 1.046 µg/bee; (24 h, contact) 0.28 µg/bee. Worms Not toxic. Other beneficial spp. Potentially harmful.
ENVIRONMENTAL FATE
EHC 64 (WHO, 1986; a review of carbamate insecticides in general). Animals In rats, following oral administration, rapidly metabolised by hydrolysis, oxidation and conjugation, forming carbofuran methylol, carbofuran phenol, and their 3-hydroxy and 3-keto derivatives; the metabolites are rapidly excreted. Plants Metabolites include carbofuran (q.v.) and 3-hydroxycarbofuran. Soil/Environment In soil, rapidly degraded under both aerobic and anaerobic conditions; DT50 c. 3-30 d; the principal metabolite is carbofuran (q.v.). Under field conditions, carbosulfan and carbofuran are unlikely to leach to groundwater.