甲萘威
又名: 西维因
使用方法:主要以可湿性粉或悬浮剂对水喷雾。
用于稻、棉、果林茶桑等作物上的螟虫、稻纵卷叶螟、稻苞虫、棉铃虫、红铃虫、斜纹夜蛾、棉卷叶虫、桃小食心虫、苹果刺蛾、茶小绿叶蝉、茶毛虫、桑尺蠖、大豆食心虫等。西瓜对甲萘威敏感,不宜使用;其他瓜类应先作药害试验,有些地区反映,用甲萘威防治苹果食心虫后,促使叶螨发生,应注意观察。对蜜蜂高毒,不宜在开花期或养蜂区使用。
产品相关
化学品中文名称:1-萘基-N-甲基氨基甲酸酯
化学品英文名称:1-Naphthalenyl methyl carbamate
类型: 杀虫剂

学名1-萘基-N-甲基氨基甲酸酯,又名西维因,一种氨基甲酸酯杀虫剂。工业产品为白色固体,纯品熔点142℃,在水中溶解度极小,在多数有机溶剂中溶解度不大,化学性质稳定,但遇碱易分解。毒性较低,急性毒性LD50值:对大白鼠经口为500~850mg/kg(见农药)。
甲萘威是氨基甲酸酯类杀虫剂中第一个大量生产的品种。1953年由美国联合碳化物公司的J.A.兰布雷奇合成,1956年开发生产。
生产方法
主要有两种:
①联合碳化物公司用光气与甲胺合成异氰酸甲酯,后者再在溶剂中与1-萘酚反应,得到甲萘威原药。此法成本低,适于大规模生产,但中间产物对人体毒性很大,要求严格进行安全控制。CH3NH2+COCl2─→CH3NCO+2HCl 化学式
②中国采用的方法是在溶剂中使1-萘酚与通入的光气反应生成氯甲酸萘酯,后者再在碱的存在下与甲胺反应得到甲萘威原药。此法工艺比较安全、简单,适于中小规模生产。
作用
甲萘威具有触杀及胃毒作用,能抑制害虫神经系统的胆碱酯酶使其致死。通常加工成粉剂和可湿性粉剂(见农药剂型)使用。由于杀虫谱广和毒性较低,在农业上应用颇广。

carbaryl
Insecticide, plant growth regulator
IRAC 1A; carbamate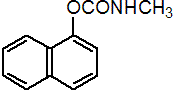 NOMENCLATURE
Common name carbaryl (BSI, E-ISO, (m) F-ISO, ANSI, ESA, BAN); NAC (JMAF); sevin* (former exception, USSR)
IUPAC name 1-naphthyl methylcarbamate
Chemical Abstracts name 1-naphthalenyl methylcarbamate
CAS RN [63-25-2] EEC no. 200-555-0 Development codes UC 7744 (Union Carbide) Official codes OMS 29; OMS 629; ENT 23 969
PHYSICAL CHEMISTRY
Composition Tech. grade is ³99% pure. Mol. wt. 201.2 M.f. C12H11NO2 Form Colourless to light tan crystals. M.p. 142 ºC V.p. 4.1 ´ 10-2 mPa (23.5 ºC) KOW logP = 1.85 Henry 7.39 ´ 10-5 Pa m3 mol-1 (calc.) S.g./density 1.232 (20 ºC) Solubility In water 120 mg/l (20 ºC). Readily soluble in polar organic solvents. In dimethylformamide, dimethyl sulfoxide 400-450, acetone 200-300, cyclohexanone 200-250, isopropanol 100, xylene 100 (all in g/kg, 25 ºC). Stability Stable under neutral and weakly acidic conditions. Hydrolysed in alkaline media to 1-naphthol; DT50 c. 12 d (pH 7), 3.2 h (pH 9). Stable to light and heat. F.p. 193 °C
COMMERCIALISATION
History Insecticide reported by H. L. Haynes et al. (Contrib. Boyce Thompson Inst., 1957, 18, 507). Introduced by Union Carbide Corp. (now Bayer CropScience). Patents US 2903478 Manufacturers Agrochem; Bayer CropScience; Crystal; Drexel; Hunan Linxiang; Jin Hung; Kuo Ching; Sannong; Sundat
APPLICATIONS
Biochemistry Weak cholinesterase inhibitor. Mode of action Insecticide with contact and stomach action, and slight systemic properties. Uses Control of Lepidoptera, Coleoptera, and other chewing and sucking insects, at 0.25-2.0 kg/ha, on more than 120 different crops, including vegetables, tree fruit (including citrus), mangoes, bananas, strawberries, nuts, vines, olives, okra, cucurbits, peanuts, soya beans, cotton, rice, tobacco, cereals, beet, maize, sorghum, alfalfa, potatoes, ornamentals, forestry, etc. Control of earthworms in turf. Used as a growth regulator for fruit thinning of apples. Also used as an animal ectoparasiticide. Phytotoxicity Non-phytotoxic if used as directed. Under certain conditions, some varieties of apple and pear may be injured. Formulation types DP; GR; OF; RB; SC; TK; WP. Compatibility Incompatible with alkaline materials such as Bordeaux mixture, lime, and lime sulfur. Selected products: 'Carbait' (Micro Flo); 'Carbamec' (PBI/Gordon); 'Cekubaril' (Cequisa); 'Efaryl' (Efthymiadis); 'Karl' (Sanonda); 'Parasin-G' (Kemio); 'Raid' (Nagarjuna Agrichem); 'Sevin' (Bayer CropScience, Certis Europe); mixtures: 'Sevidol' (+ gamma-HCH) (Crop Health)
OTHER PRODUCTS
'Adios' (BASF); 'Agrovin' (AgroSan); 'Atoxan' (Siapa); 'Carbarex' (Crystal); 'Carbex' (Crystal); 'Eco Bait' (Peacock); 'Panam' (Isagro, Chemiplant); 'Sekib' (Agrochem); 'Sevidan' (Bayer CropScience); 'Sevimol' (Bayer CropScience); 'Sevithion' (Bayer CropScience); 'Thinsec' (Syngenta) mixtures: 'Adios AG' (+ cinnamaldehyde) (with indole and 1,2,4-trimethoxybenzene) (Micro Flo) Discontinued products: 'Cekubaryl' * (Cequisa); 'Dicarbam' * (BASF, Intrachem, Sapec); 'Microcarb' * (Grampian); 'Ravyon' * (Makhteshim-Agan); 'Savit' * (Griffin) mixtures: 'Naftil' * (+ chlorfenson) (Pepro); 'Slam' * (+ cucurbitacin) (BASF, Micro Flo)
ANALYSIS
Product analysis by i.r. spectroscopy (AOAC Methods, 17th Ed., 976.04; CIPAC Handbook, 1970, 1, 185; 1980, 1A, 1113; FAO Specification (CP/55)) or by hplc (G. W. Sheehan, Anal. Methods Pestic. Plant Growth Regul., 1984, 13, 157). Residues determined by glc of a derivative (ibid., 1972, 6, 478; Man. Pestic. Residue Anal., 1987, I, 6; Anal. Methods Residues Pestic., 1988, Part I, M2, M13; AOAC Methods, 17th Ed., 975.40; A. Ambrus et al., J. Assoc. Off. Anal. Chem., 1981, 64, 733), by rplc (AOAC Methods, 17th Ed., 985.23), by colorimetry (ibid., 964.18*) or by tlc (ibid., 968.26*). In drinking water, by rplc and fluorimetry of liberated methylamine (ibid., 991.06).
MAMMALIAN TOXICOLOGY
Reviews FAO/WHO 92, 94 (see part 2 of the Bibliography). IARC ref. 12 class 3 Oral Acute oral LD50 for rats 264, female rats 500, rabbits 710 mg/kg. Skin and eye Acute percutaneous LD50 for rats >4000, rabbits >2000 mg/kg. Slight eye irritant, mild skin irritant (rabbits). Inhalation LC50 (4 h) for rats 3.28 mg/l air. NOEL (2 y) for rats 200 mg/kg diet. ADI (JMPR) 0.008 mg/kg b.w. [2001]. Toxicity class WHO (a.i.) II; EPA (formulation) I ('Tercyl' 85WP), II ('Sevin' 80S), III EC classification R40| Xn; R22| N; R50
ECOTOXICOLOGY
Birds Acute oral LD50 for young mallard ducks >2179, young pheasants >2000, Japanese quail 2230, pigeons 1000-3000 mg/kg. Fish LC50 (96 h) for rainbow trout 1.3, sheepshead minnow 2.2, bluegill sunfish 10 mg/l. Daphnia LC50 (48 h) 0.006 mg/l. Algae EC50 (5 d) for Selenastrum capricornutum 1.1 mg/l. Other aquatic spp. LC50 (96 h) for mysid shrimp (Mysidopsis bahia) 0.0057 mg/l; LC50 (48 h) for Eastern oyster (Crassostrea virginica) 2.7 mg/l. Bees Toxic to bees; LD50 (topical) 1 mg/bee. Worms LC50 (28 d ) 106-176 mg/kg soil. Other beneficial spp. Toxic to beneficial insects.
ENVIRONMENTAL FATE
EHC 153 (WHO, 1994); 64 (WHO, 1986; a review of carbamate insecticides in general). Animals In mammals, carbaryl does not accumulate in body tissues, but is rapidly metabolised to non-toxic substances, particularly 1-naphthol. This, together with the glucuronic acid conjugate, is eliminated predominantly in the urine and faeces. Metabolism of carbamate insecticides is reviewed (M. Cool & C. K. Jankowski in "Insecticides"). Plants Metabolites are 4-hydroxycarbaryl, 5-hydroxycarbaryl and methylol-carbaryl. Soil/Environment Under aerobic conditions, carbaryl at 1 ppm degraded with DT50 7-14 d in a sandy loam and 14-28 d in a clay loam.