butamifos
Herbicide
HRAC K1 WSSA 3; phosphoroamidate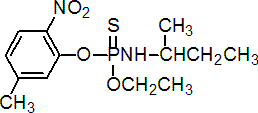 NOMENCLATURE
Common name butamifos (BSI, E-ISO, F-ISO, JMAF)
IUPAC name O-ethyl O-6-nitro-m-tolyl sec-butylphosphoramidothioate
Chemical Abstracts name O-ethyl O-(5-methyl-2-nitrophenyl) (1-methylpropyl)phosphoramidothioate
Other names butamiphos CAS RN [36335-67-8] Development codes S-2846 (Sumitomo)
PHYSICAL CHEMISTRY
Mol. wt. 332.4 M.f. C13H21N2O4PS Form Tech. is a yellow-brown liquid. V.p. 84 mPa (27 ºC) KOW logP = 4.62 (25 ºC) S.g./density 1.188 (25 ºC) Solubility In water 6.19 mg/l (25 ºC). Readily soluble in acetone, methanol, and xylene at room temperature.
COMMERCIALISATION
History Herbicide reported by M. Ueda (Jpn. Pestic. Inf., 1975, No. 23, p. 23). Introduced by Sumitomo Chemical Co., Ltd. Patents GB 1359727; US 3936433 Manufacturers Sumitomo
APPLICATIONS
Biochemistry Microtubule assembly inhibition. Mode of action Selective non-systemic herbicide. Uses A contact herbicide used pre-emergence. Effective against annual and especially graminaceous weeds, in beans, lawns, rice and vegetables. Formulation types EC; WP. Selected products: 'Cremart' (Sumitomo)
OTHER PRODUCTS
'Hie Top' (Nihon Nohyaku) mixtures: 'Agrostar' (+ cyhalofop-butyl+ pyrazosulfuron-ethyl) (Sumitomo)
ANALYSIS
Product analysis by glc or by colorimetry (M. Horiba et al., Nippon Nogei Kagaku Kaishi, 1979, 53,111). Details of residue analysis available from Sumitomo Chemical Co.
MAMMALIAN TOXICOLOGY
Oral Acute oral LD50 for male rats 1070, female rats 845 mg/kg. Skin and eye Acute percutaneous LD50 for rats >5000 mg/kg. Non-irritant to skin and eyes (rabbits). Inhalation LC50 for rats >1200 mg/m3 air. Toxicity class WHO (a.i.) II
ECOTOXICOLOGY
Fish LC50 (48 h) for carp 2.4 mg/l.