butafenacil
Herbicide
HRAC E WSSA 14; pyrimidindione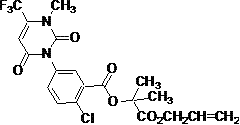 NOMENCLATURE
Common name butafenacil (BSI, pa ISO)
IUPAC name 1-(allyloxycarbonyl)-1-methylethyl 2-chloro-5-[1,2,3,6-tetrahydro-3-methyl-2,6-dioxo-4-(trifluoromethyl)pyrimidin-1-yl]benzoate
Chemical Abstracts name 1,1-dimethyl-2-oxo-2-(2-propenyloxy)ethyl 2-chloro-5-[3,6-dihydro-3-methyl-2,6-dioxo-4-(trifluoromethyl)-1(2H)-pyrimidinyl]benzoate
CAS RN [134605-64-4] Development codes CGA 276854 (Novartis)
PHYSICAL CHEMISTRY
Mol. wt. 474.8 M.f. C20H18ClF3N2O6 Form Fine, white powder, with a slight odour. M.p. 113 °C B.p. 270-300 °C V.p. 7.4 ´ 10-6 mPa (25 °C) KOW logP = 3.2 Henry 3.5 ´ 10-7 Pa m3 mol-1 S.g./density 1.37 (20 °C) Solubility In water 10 mg/l (25 °C). Stability Hydrolysis DT50 14 w (pH 7, 25 °C); photolysis DT50 25-30 d (pH 5, 25 °C).
COMMERCIALISATION
History Reported by A. Zoschke et al., Jap. J. Weed Science and Technology, 43, 126 (1998). Patents US-A-5 183492; Ep-B-0 436 680 Manufacturers Syngenta
APPLICATIONS
Biochemistry Inhibitor of protoporphyrinogen oxidase. Mode of action Non-selective contact herbicide, rapidly absorbed by the foliage. Translocation occurs only within leaves. Uses Control of a wide range of annual and perennial broad-leaved weeds in fruit orchards, vineyards, citrus and non-crop land. Formulation types EC. Selected products: 'Inspire' (Syngenta); 'Rebin' (Syngenta); mixtures: 'Rebin GT' (+ glyphosate-isopropylammonium) (Syngenta)
OTHER PRODUCTS
Mixtures: 'Logran B-Power' (+ triasulfuron) (Syngenta); 'Touchdown B-Power' (+ glyphosate) (Syngenta)
MAMMALIAN TOXICOLOGY
Oral Acute oral LD50 for rats and mice >5000 mg/kg. Skin and eye Acute percutaneous LD50 for rats >2000 mg/kg. Non-irritating to skin and eyes (rabbits); not a skin sensitiser (guinea pigs). Inhalation LC50 for rats >5100 mg/m3. Toxicity class WHO (a.i.) III (company classification)
ECOTOXICOLOGY
Birds Acute oral LD50 for mallard ducks and bobwhite quail 2250 mg/kg. Dietary LC50 for mallard ducks and bobwhite quail 5620 mg/kg diet. Fish LC50 (96 h) for trout 3.9 mg/l. Daphnia LC50 (48 h) >8.6 mg/l. Algae ErC50 for Scenedesmus 2.5 mg/l. Bees LD50 (oral) >20 mg/bee; (contact) >100 mg/bee. Worms LC50 >1250 mg/kg soil.
ENVIRONMENTAL FATE
Soil/Environment Rapidly degraded in soil and water: DT50 1-2 d (soil); DT50 3-4 d (water).