bistrifluron
Insecticide
IRAC 15; benzoylurea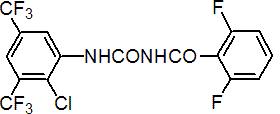 NOMENCLATURE
Common name bistrifluron (BSI, pa ISO)
IUPAC name 1-[2-chloro-3,5-bis(trifluoromethyl)phenyl]-3-(2,6-difluorobenzoyl)urea
Chemical Abstracts name N-[[[2-chloro-3,5-bis(trifluoromethyl)phenyl]amino]carbonyl]-2,6-difluorobenzamide
CAS RN [201593-84-2] Development codes DBI-3204 (Dongbu Hannong)
PHYSICAL CHEMISTRY
Mol. wt. 446.7 M.f. C16H7ClF8N2O2 Form White powder. M.p. 172-175 °C V.p. 2.7 ´ 10-3 mPa (25 °C) KOW logP = 5.74 Henry <4.0 ´ 10-2 Pa m3 mol-1 (calc.) Solubility In water <0.03 mg/l (25 °C). In methanol 33.0, dichloromethane 64.0, hexane 3.5 (all g/l, 25 °C). Stability Stable at room temperature and at pH 5-9. pKa 9.58?.46 (25 °C)
COMMERCIALISATION
History Reported by K. S. Kim et al. (Proc. BCPC Conf. - Pests Dis., 2000, 1, 41). Under development by Dongbu Hannong Chemical Co., Ltd. Manufacturers Dongbu Hannong
APPLICATIONS
Uses For control of whitefly (Trialeurodes vaporariorum and Bemisia tabaci), and lepidopterous insects (e.g. Spodoptera exigua, Plutella xylostella, Stathmopoda masinissa, and Phyllonorycter ringoniella), at 75-400 g/ha. Formulation types EC; SC. Selected products: 'Hanaro' (Dongbu Hannong)
MAMMALIAN TOXICOLOGY
Oral Acute oral LD50 for male and female rats >5000 mg/kg. Skin and eye Acute percutaneous LD50 for male and female rats >2000 mg/kg. Not a skin irritant; slightly irritating to eyes. NOEL (13 w) subacute toxicity NOEL for rats 220ppm; (4 w) subacute dermal toxicity NOEL for rats 1000 mg/kg; teratogenicity NOEL for rats >1000 mg/kg. Other Negative in Ames, chromosomal aberration and micronucleus tests.
ECOTOXICOLOGY
Birds Acute oral LD50 for mallard duck and bobwhite quail >2250 mg/kg. Fish LC50 (48 h) for carp >0.5, killifish >10 mg/l. Bees LD50 (48 h, contact) >100 mg/bee. Worms LC50 (14 d) for earthworms 32.84 mg/kg.