benzobicyclon
Herbicide
HRAC F2 WSSA 28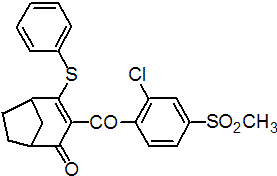 NOMENCLATURE
Common name benzobicyclon (BSI, pa ISO)
IUPAC name 3-(2-chloro-4-mesylbenzoyl)-2-phenylthiobicyclo[3.2.1]oct-2-en-4-one
Chemical Abstracts name 3-[2-chloro-4-(methylsulfonyl)benzoyl]-4-(phenylthio)bicyclo[3.2.1]oct-3-en-2-one
CAS RN [156963-66-5] Development codes SB-500; SAN 1315 H (Sandoz)
PHYSICAL CHEMISTRY
Mol. wt. 447.0 M.f. C22H19ClO4S2 Form Slightly yellow, odourless crystals. M.p. 187.3 °C V.p. <5.6 ´ 10-2 mPa (25 °C) KOW logP = 3.1 (20 °C) S.g./density 1.45 (20.5 °C) Solubility In water 0.052 mg/l (20 °C). Stability Thermally stable up to 150 °C. Rapidly hydrolysed.
COMMERCIALISATION
History Introduced by SDS Biotech in 2001. Patents AUS 672058 (1993); JP 0625144 (1994) Manufacturers SDS Biotech KK
APPLICATIONS
Biochemistry p-Hydroxyphenyl pyruvate dioxygenase inhibitor. Mode of action Selective herbicide, absorbed through root and basal stems of weeds, with translocation to the whole plant; causes bleaching of newly developing leaves. Uses Control of annual and perennial paddy weeds in direct-seeded and transplanted rice, applied early pre- to early post- emergence, at 0.2-0.3 kg/ha. Formulation types GR; SC; WG. Selected products: 'ShowAce' (SDS Biotech KK)
OTHER PRODUCTS
Mixtures: 'Focus Shot' (+ pentoxazone) (SDS Biotech KK, Kaken); 'Kusa Kont' (+ pretilachlor) (SDS Biotech KK, Syngenta, Sankyo Agro); 'Smart' (+ benzofenap+ fentrazamide) (SDS Biotech KK, Bayer CropScience) Discontinued products mixtures: 'Shocker' * (+ thenylchlor) (Otsuka, Tokuyama, SDS Biotech KK)
MAMMALIAN TOXICOLOGY
Oral Acute oral LD50 for rats and mice >5000 mg/kg. Skin and eye LD50 for rats >2000 mg/kg. Not a skin irritant. Inhalation LC50 (4 h) for rats >2720 mg/m3.
ECOTOXICOLOGY
Birds LD50 for bobwhite quail and mallard ducks >2250 mg/kg. LC50 (5 d) for bobwhite quail and mallard ducks >5620 mg/kg. Fish LC50 (48 h) for carp >10 ppm. Daphnia LC50 (3 h) >1 ppm. Algae EC50 (72 h) for Selenastrum capricornutum >1 ppm. Bees LD50 (oral and contact) >200 mg/bee.